North America Dispatch #25: I Heart Chattanooga
O, from what power hast thou this powerful might
With insufficiency my heart to sway?
To make me give the lie to my true sight,
And swear that brightness doth not grace the day?
—William Shakespeare
Energized from yesterday's change of heart, I kicked into high gear. Today was quite a ride. I can't believe I did all the following in one day … but I did. It's a testament to the chowconnaissance strategy of taking only tiny bites, painful though it is when food's this good.
After yesterday's hesitant forays, I decided to blast completely out of downtown and just drive and drive, pursuing serendipitous treasure—exactly what I'm always urging everyone else to do! I headed in the opposite direction of yesterday's trajectory, but only now realize that I actually wound up quite near where I had last night's dinner. The nabe has a magnetic allure. Sometimes it's like that.
To get to the magical part of Chattanooga, one must pass through what I've dubbed "The Tunnel of Love"—a cleansing, purifying tunnel that strips away all downtown karma and empowers you to find gem after gem. I'm not sure I could find this magical tunnel again, but here is a photo:
I passed Wally's Restaurant (6521 Ringgold Road, Chattanooga, Tennessee; 423-899-6151), an ancient spot that seemed preserved in amber, and it was love. Wally's is love.
See photos of my lunch, below. Or perhaps it was supper. Or dinner. Who knows what they call lunch around here—I can't keep track. Wally's kitchen is much less weary than Bea's, though it's apples and oranges, as this is a restaurant, rather than a lazy-Susan joint.
I asked if the chicken with dressing was roasted or baked, and was told, "Boiled." That's apparently a regional style, and it works surprisingly well. There was tons of sage in the dressing, like TV-dinner stuffing only good. Turnip greens were soft and lovely; peach cobbler had some soul. A Great Chowhounding Moment: The waitress informed me that I could have three vegetables, and PEACH COBBLER COUNTS AS A VEGETABLE!
This muffin had a greater concentration of lard than any single food item I've ever come across. Bravo, Wally's. Bravo!
"Green early peas" (tasted pretty much like peas).
Peach cobbler having counted as a vegetable, I felt justified in ordering dessert. The pecan pie doesn't look so great—chintzy with the pecans and desperately crying out for some lard in the crust, à la the corn muffins. But the sweet, gooey body was deep and engrossing.
Click along with me, won't you, every day for the rest of your life, to see what meats and vegetables Wally's is serving today.
In conclusion, Wally's isn't a great place—I could imagine returning to Chattanooga without dining here. But it's great, in its way, just for being goooood. This is straight-down-the-middle unaffected Southern diner food backed by long tradition. And I needed that.
+ + +
DIGRESSION ON SOUTHERN COOKING AND CHARLIE PARKER
Note: If the following bores you, do not by any means fail to scroll down for life-changing barbecue discoveries (complete with leering photos) and an account of dinner at what may be the country's upscale restaurant most deserving of wider recognition.
The smooth, very sagey dressing at Wally's reminded me of TV-dinner stuffing. And the slightly bland fried chicken at Bea's (see installment #24) reminded me of Banquet chicken dinners. And Bea's coleslaw resembled the slaw at KFC. And this got me thinking.
As I plunge into lesser-known foodways, I often spot signs of the earlier passage of American food executives decades earlier, sort of like Stanley following in the footsteps of Livingston. They've trod this trail with very different intent: to shake down cultures for recipes to bland out, adapt, and reformulate into the highly processed junk that's filled American supermarket shelves for the past few generations.
Yes, iconic mass-market foods have roots. Who knew? Those insipid orange wafer cookies are based on a traditional Bosnian recipe that's actually full of character. Cheez Doodles have roots in Brazil. Ring Dings are dumbed-down Peruvian alfajores. I never understood the barbecue connection of barbecue-flavored potato chips until I tried Memphis dry-rub barbecue.
Similarly, Banquet fried chicken is a reductio ad blandum of the chicken served at places like Bea's, and Swanson sagey stuffing rips off places like Wally's. The food execs covered the world, but they also drew from the American heartland. As a result, things like modest, sincere fried chicken and sagey dressing became caricatured to the point where outsiders tasting the original source materials mentally associate them with the mass-market junk foods they superficially resemble. Come eat down here, and you might assume the local cuisine has gone to hell.
But eat carefully, and you'll see how the original is classier. The fried chicken at Bea's may have tasted like Banquet fried chicken, but it wasn't lifeless. And the coleslaw didn't flatline like KFC's. Same for Wally's stuffing. The difference is soul.
Charlie Parker is considered one of the great geniuses of jazz, a saxophonist who developed an entirely new approach to music out of thin air. When I was young, I heard a profusion of lousy Charlie Parker imitators, and never cared for them. When I finally heard Parker's recordings, I disliked him, because he sounded so much like the hacks who came after.
I'm not saying this style of cooking is as brilliant as Charlie Parker. But it chronologically predates and spiritually surpasses the dreck that came later. So it's necessary to dump bad associations to appreciate it properly.
+ + +
This was such an intense day that lack of space compels me to give short shrift to some stunning barbecue in places right near each other on a strip I think of as Barbecue Alley.
Forgive me, Bob Garner, but the chopped pork BBQ at Old Plantation Barbecue (1515 Dodson Avenue, Chattanooga, Tennessee; 423-624-8105) is light years beyond anything served in North Carolina. And the ribs are heavenly. And the guys working there are kindhearted. And you kind of don't ever need to seek further, because this is the barbecue you've always dreamed of, in a small roadside take-out shack. Let's go directly to the snapshots, which say it all.
But seek further I did, 'cuz it's my job. Thus I found Sunset Inn (964 Dodson Avenue, Chattanooga, Tennessee; 423-629-9240), a cocktail lounge/restaurant that's got to be wildly fun at night. I arrived in midday, and while the owner was nowhere near as friendly as the guys at Plantation, his barbecuing prowess earns him all the aloof gravitas in the world.
The Sunset Inn guy is a true master, who achieves a textbook rosy glow in the meat via immaculate smoking. Meat is tender but nowhere near overcooked ("falling off the bone" is not the goal of true 'cue), and the sauce fits like a glove.
Note: I'm raving about Sunset Inn's ribs. Their chopped barbecue is sort of a mushy mess. But with ribs such as these, nothing else really matters.
Another titan can be found in a parking lot next to the car wash at 2218 McCallie Avenue, operating the massive Ms. Tina's Hot Meals on Wheels truck and its adjoining blue tent. I found no trace of Ms. Tina, just a shaved-headed guy making superb ribs.
These were great ribs, with all the fatty juicy crunchy meatiness one could ask for. They're the sort of ribs that make you nod your head in admiration. My only quibble is strictly a matter of personal taste: I found the meat just slightly oversmoked. But the smoke level nonetheless falls easily within the boundaries of great and proper barbecue.
This guy, whom I think of as Mr. Tina, will soon open a late-night full-service barbecue joint and music café just up the block. In the following photo, notice the workmen congregated in front of the brown house on the left. That's the spot.
Plantation's barbecue was at the other side of the spectrum, slightly mild in the smoking (though smoke's definitely in there). In both cases, I'm quite sure the result is exactly what's being aimed for, but Sunset Inn seems to strike an ideal middle ground. All three are killer, though, and unforgettable 'cue tourism could be enjoyed by spending a weekend in the neighborhood shuttling between all three venues—and discovering still more outlets, ripe for the picking thereabouts.
In that same nabe, I had charming barbecue from some itinerant ladies cooking in a parking lot at the corner of Dodson Avenue at McCallie Avenue. Their sauce is strictly commercial, and, horrors, they grill hot (with Kingsford charcoal briquets), rather than smoke—a sacrilege that would make some declare this not real barbecue. But the proof's in the eating, and to sample their work leaves no doubt of its genuineness. These ladies have barbecue so deeply in their bones that they could probably produce something tasty over a couple of cans of Sterno. Score one for transcendence of the material plane.
I took this shot—
—as a self-reminder to follow up on the tip, but I never did make it out there. If you ever try Tony's Lounge and Blues Spot (I like the sound of it), please report back on the Chowhound.com South message board!
+ + +
I was hoping for dessert, and the gods of chowhounding yielded forth a sign for Cake Lady (1414 McCallie Avenue, Chattanooga, Tennessee; 423-624-0505), a name impossible to resist.
The Cake Lady sells as a concession within a deli, and it's not a real fancy place. And the cake looks like nothing special, either.
But her baking is first rate. The luscious strawberry cake, with good cream cheese frosting, especially impressed me with its unprepossessing plainness. The frosting wasn't dyed red to make it look more strawberryish, and the result is as plain and greyish in appearance as it is resplendent in flavor.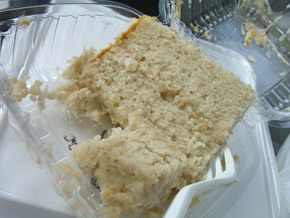 This homely looking cake sells purely on its deliciousness. I was so moved by this (and by her stocking of both Miss Vickie's and Zapp's potato chips) that I did something I only rarely do cold with strangers: I hit up the Cake Lady for chow tips.
She offered some half-hearted suggestions in the Chattanooga area, so I pushed her for suggestions further afield. Finally, she coughed up the pearl I'd hoped for: Canyon Grill. Up a mountain in the middle of nowhere. Expensive but worth it. All cooking done with incredible care and skill. I booked a reservation for that very night—late, to give me time to try to digest all the barbecue and cake and everything.
Canyon Grill (28 Scenic Highway, Rising Fawn, Georgia; 706-398-9510) is perched atop a mountain in rural Georgia. A generic freeway provides fast access from Chattanooga, but I opted for the scenic route, driving out of town via Broad Street to the base of Lookout Mountain (note: Right there is an interesting-looking Thai restaurant, plus a joint advertising "brownies and barbecue" that I can't believe I didn't try). From there, it's a series of switchbacks and long, slow climbs—a hunger-building drive through fresh air and gorgeous scenery. There doesn't seem to be much exciting going on on Lookout Mountain (exception: a hang-gliding academy perched on a cliff), but the ride sets you up perfectly for a remarkable dining experience.
Canyon Grill is something of a miracle, seamlessly integrating seemingly contrary factors. Food, service, and décor are the essence of sophistication, yet the result somehow feels perfectly natural atop a mountain in rural Georgia. There's zero pretension in a place that depends on diners to travel far and pay dearly. This is no capsule of aloof elegance planted rakishly in the middle of nowhere for the gentry to coo over. Rather, it fits in with its surroundings—a tough task for a refined venue atop a mountain in Rising Fawn, Georgia.
Décor is urbane, background music is swanky, service is solicitous, and food is refined, but the result is utterly unself-conscious, as if the operation had just sprung up organically. Make no mistake: This isn't just a local joint of unusual quality. Canyon Grill is a top-drawer destination restaurant deserving coverage in glossy food magazines.
I suppose the best way to describe the place is "honest"—talented, unprepossessing folks serving food they believe in … and leaving it at that, with none of the self-consciousness or posing that afflicts so many other ambitious eateries. The menu includes ordinary-sounding items, but while nothing's prissy, this isn't vernacular cooking. The touches are far too subtle, the ingredients far too carefully chosen (chef Johnny Holland is a sourcing maniac).
It's like when folks move into some incredibly rural area and build a luxury house, but take great care to ensure that it fits harmoniously into the surroundings. That's what the food tastes like. Respectful but staunchly personal—and kick-ass delicious.
I wanted to order something grilled (the restaurant's founder invented the fancy wood-burning Smokey Mountain Grill, which can be bought at the restaurant for several thousand dollars), and they're equally proud of their fish, so I ordered a seafood platter of intense and pristine hickory-grilled wild Gulf shrimp with lemon butter; rich, luscious fried Gulf oysters; and fried catfish that spoke volumes of poetic subtext without resorting to clever touches. And, at last: great mashed potatoes from what apparently is the last kitchen in the South that hasn't gone over to the dark side (i.e., instant).
I can now say that at least once in my life I had perfect strawberry shortcake.
The meal was unforgettable; definitely worth the hour ride from Chattanooga, likely worth the two-hour trip from Atlanta, and quite possibly worth a pilgrimmage from NYC. I suppose I'd be rash, after one visit, to suggest that this is one of America's finest undiscovered (on a national level) restaurants. But I'm tempted. Canyon Grill seems to have received no national press, yet it offers everything one could hope from high-end dining: meticulous care, unfailing deliciousness (maybe I got lucky, but not one bite, including bread, was less than sublime), deft personal touch, impeccable ingredients, beautiful yet comfortable surroundings, and even a BYO wine policy.
While the $40 price tag (before tax and tip) is stratospheric for the area, it was a superb value. I'm smitten, and encourage you to go and get smitten yourself.
After dinner, I slipped into a backwoods benefit for a local fire department, and shot a short, grainy, claustrophobic video attempting to convey my profound disorientation: Movie file
Chattanooga Redux
On my first day in Chattanooga, I noticed that the water in my hotel tasted funny. Three days later, I've figured it out: It tastes like catfish. And now I can't get enough of it.
I clearly ought to quit while I'm ahead, because I'll never surpass today's finds. So tomorrow I head west.
« Previous Post: Cheerfully Chowhounding Chattanooga«
»Next Post: Attempted Culinary Seclusion »