North America Dispatch #11: Jive Tribal ... but Great Buffet
Washington, DC



The cafeteria at the Smithsonian's National Museum of the American Indian, a.k.a. Mitsitam Café, seems enticing. They have separate stations for various regions ("Northern Woodlands," "Meso America," "Northwest Coast," etc.), each presuming to serve regional foods. Who could resist?
I'm ambivalent, so I'm moved to both pan and (tepidly) rave.
Pan:
Restaurant Associates (Nick and Stef's Steakhouse, Café Centro, Naples 45, etc., plus lots of catering) runs the cafeteria, and this is not a company with a deep commitment to culinary authenticity. Of course, I'd forgive inauthenticity if the food were at least decent. But most of it isn't (I'd single out the mint agua fresca as the worst thing I've put in my mouth in ages). And the place is phenomenally overpriced. And the staff's not even making an effort (I asked for "posole," and a manager stared blankly until I said "chicken and corn soup").
Basically, this is a fake, jive, lousy, crowded place hanging entirely on a hooky shtick that no one involved takes the least bit seriously (a Hispanic woman, displayed like a robot Santa in the Bloomingdale's Christmas window, looked miserable making tamales from a bad, wrong recipe foisted on her by some corporate gringo scum).
Rave:
The recipes, though adapted, short-cut, compromised, and incompetently rendered from ludicrously substituted ingredients, sometimes show honest underpinnings—fleeting glimpses of real Indian cooking. At the start of the chain of events that led to the present culinary catastrophe, some earnest person seems to have really tried to do right (this individual is likely rotting in the dungeon of Restaurant Associates' headquarters so that he can't complain to the press).
The tamales, for example, are wrong, but there are mitigating notes of rightness, and they have a nice creaminess. The Indian pudding (does anyone, by the way, think Indian pudding is actually Indian?) is worth more than a single bite. And the tablespoon of chili ladeled onto my mess of an "Indian taco" (fry bread-– here rendered like cheap carny zeppole) tasted cuminy good.
But the real upside is this: Compared with the overpriced bad renditions of bad food found at other museum cafés in the area, the American Indian Museum's overpriced poor renditions of interesting foods is a best-of-evils alternative. And so they draw in flocks of lunch-hour workers from the neighborhood, who literally could not do better. And so it'd be a particularly serious mistake to attempt to eat here between noon and 2 p.m.



This sign does not prepare you for what is to come.



Tamale (edible) and blue cornbread (insipid).



Indian taco (a smothered mess, mitigated by a dab of decent chili).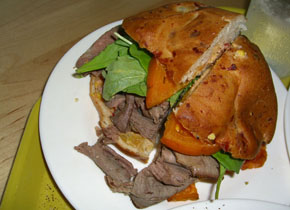 Buffalo flank steak sandwich (tasted like Arby's).



Indian pudding (pretty good).
BuffetCam videos! Warning: My video skills are still severely lacking. I'm improving, but this footage is still fast, jumpy, and out of focus (which, come to think of it, is actually how I'm feeling nearly two weeks into my trip!). Movie file

Falls Church, Virginia
On last night's podcast, you heard Dave Sit raving about his dim sum find. I begged him to bring me there (Lucky Three Chinese Restaurant, 5900 Leesburg Pike, Falls Church, Virginia; 703-998-8888).
When it comes to dim sum, Dave is the pickiest of picky. Precious few places merit his consideration, and the smallest shortcoming (slightly overthick dough on the har gow, fried items less than optimally crisp) can ruin his whole day. New York City has a half-dozen top-class dim sum places, but he'll only eat at the Nice Restaurant on East Broadway, where everything is suitably refined and consistent. So I was stunned to hear that he's fallen hard for a dim sum buffet, for goodness' sake. Dave is not a buffet kind of guy!
But see the photos and hear the podcast to understand why this place has won Dave's heart.
Lucky Three's unassuming exterior.



Delicious-looking crab (though the Crab Fiend has picked out every single claw).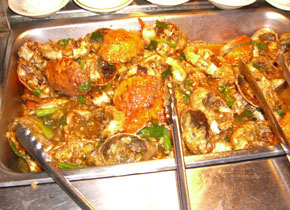 Podcasts:
I've been eating dim sum with Dave for two decades, and I continue to learn new things from him. Listen in so that you can share his tips and perspective:


MP3

file

Dave guides us through the big hot pot of fresh tofu.
MP3

file

Strategies: dim sum buffets versus classic dim sum.
... and the still-bumpy and amateurish BuffetCam: Movie file.
Note: A suspicious manager came running over to question why I was filming, so I had to give him the Bugs Bunny treatment.
« Previous Post: NOVA Wine-Geek Meet-Up (Plus: Eartha "Goes HAL")«
»Next Post: Virginia Chowconnaissance: Two Days in High Gear »