North America Dispatch #68: Vacation Tamales
Puerto Vallarta, Mexico
A hearty south-of-the-border "Hola" from here in sunny Mexico, where, resplendent in cheap sunglasses, I'm about to hunker down for a vacation week spent entirely prone on sand.
CHOW Tour's over. But, as I said in the previous report, the CHOW Tour's never over. So while my destination is the village of Sayulita (a vacation-from-chowhounding wonderland, in that none of the food's bad, yet none is great), I can't resist a bit of chowconnaissance on my way in from Puerto Vallarta. And since I have my camera along … well, you know.
So here we are again: you, me, and my food. But remember, I'm on vacation. It's not my job to be reporting this. The following tamales are entirely from the goodness of my heart.
But my heart's nowhere near as deep as that of Maria Candela. My lord. Did I ever really have tamales before? These are so much more vivid. I am moved, I am dumbfounded.
I was told to visit María Candelaria Tamales Artesanales (Guadalupe Sánchez no 851, Col. Centro, Puerto Vallarta, Mexico; 322-222-4603), which seems to be situated in Maria's house. In the back, an eclectic assortment of vagabonds, hangers on, eager gringo intern girls, and grim masa wraiths sit at a long table, turning out tamales to feed an army. Yet I am the only customer seated in Maria's parlor, eating this stirring food with the heightened emotional blaze and aroused flaring nostrils of a telenovela character. Keep the interns safely away, madam; the blood boils and I am not in full control of my bestial impulses.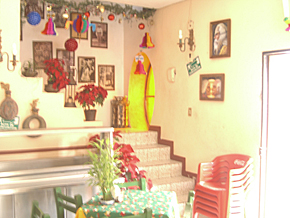 Vacation means not having to focus the camera.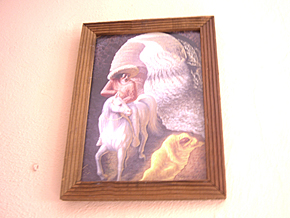 In front: the stunning tamal de costillita de cerdo (pork rib). In back: the blessed Oaxacan tamal (chicken with homemade mole negro).


The blessed Oaxacan tamal torn asunder to reveal its copious inner treasures.


Unthinkably soulful hot sauce. Would drink it down if it weren't so scorching. May drink it down anyway.


Agua fresca. An entire two-week beach vacation in a ceramic mug. Impossibly tangy, frothy, fresh. Perfect sweetness.


Smutty leering close-up of the stunning tamal de costillita de cerdo.


I've called for more tamales. This time, Salvadoran tamal (with black beans, crema, and queso).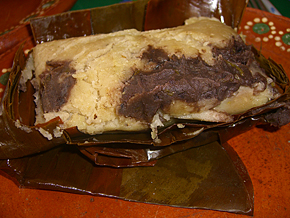 I finally understand crema. Not sour cream. Not runny white gook. This is a proud and distinct thing. I get it now.


I am not worthy of this tamal. Nor are you worthy to look at it. Don't you dare click.


English menu.


<
Spanish menu.


I would feel unbearably regal, a Little Lord Fauntleroy relishing his edible riches in the silent, colorful parlor while squadrons of faceless serfs pound masa below, desperately trying to keep pace with my decadent consumption. Except it's not like that. Maria is a gracious hostess, but it's abundantly clear who's got the power.
+ + +
We think of Puerto Vallarta as nothing but gringos on a beach. María Candelaria, as authentic and pure an oasis of Mexican culture as one can hope for, is only a couple of blocks from the beach. Once again, treasure is ripe for the picking even in unlikely places … so long as you're willing to ferret it out!
Also great: Marisma Fish Tacos, an outdoor stand staffed entirely by Amazonian women who craft godhead fish and shrimp tacos in the middle of Naranjo Street, between Basilio Badillo and V. Carranza, near the exit of a tunnel.
There's one place I spotted but didn't get to try: great-looking spinning chickens in a nameless corner stand right near a very big, old, famous-seeming cigar store north of Marisma Fish Tacos (just barely up in the main section of Puerto Vallarta).
+ + +
Sorry, but you can't come with me to Sayulita. I will be, as I said, prone in sand. Not a posture lending itself to incisive reporting. However, I've tossed you the following relic, a video shot of some unfathomable religious event that went down one night in the town square. Don't expect much to happen (though there are some moments). Just soak up the flavor and the music: Movie file.
« Previous Post: Chow Tour Redux (or, Lots and Lots of Millet)«