North America Dispatch #61: Astounding Macrobiotic (Not a Typo!)
Montreal
La Pâtisserie Belge (3485 Avenue du Parc, Montréal, Quebec; 514-845-1245) makes some of the best croissants in town.

Ah, to be an ant endlessly devouring my way through this mother lode of crisp, fluffy croissants …
+ + +
Aux Vivres (4631 Boulevard St. Laurent, Montreal; 514-842-3479) is both macrobiotic and enormously delicious. That's a radical statement, I know. For some perspective, consider that Googling "macrobiotic" and "enormously delicious" yields precisely zero results.
Why can't other vegetarian places be one-tenth this good? This is not merely "great for a vegetarian restaurant." It'd rate deliriously in any category (thanks to filmmaker Adrienne Amato for the tip!).
The kitchen's staffed by magicians. Muffins come on like nothing special, with very little sugar. Then you notice fruit flavor building to a climax so intense that you can't imagine how the baker pulled it off. You find yourself coaxing every last drop of salad dressing out of its little cup. Leftovers are likely to be ravaged moments after leaving the restaurant.

It's quite the low-profile operation.



Two complete brunch choices—at an absurdly low price.


Their chapati with vegan butter is worth a plane trip. I have no idea what "vegan butter" is, except that it's too good to be legal. The combination with melt-in-your-mouth chapatis could make a strong man weep.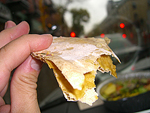 I couldn't help gnashing at leftovers, despite heavy traffic.
+ + +
Fun between-meal activity: a trip to the Biodôme (4777 Avenue Pierre-De Coubertin, H1V 1B3, Montreal; 514-868-3000), where one walks transportively through exotic ecosystems. There's a phone link where you can ask questions of people in Antarctica. Cool!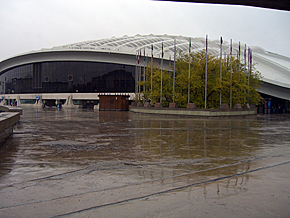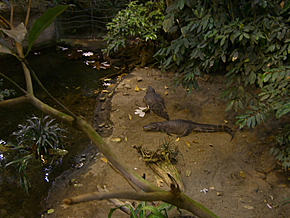 + + +
The residents of Spain's northwestern corner get around. At one time, there were Galician ("Gallego" in Spanish) social clubs in many major world cities. Assimilation having taken its toll, such clubs are rarities nowadays. So I was especially happy to come upon the creaky Centre Gallego De Montreal (4602 Boulevard St. Laurent, Montreal; 514-843-3821).
The food tastes as if it had been made by a South American chef. And there's a Portuguese waiter. And menus are in French as well as Spanish. But the room is stocked with the requisite 5-foot-5 older bald guys in sweater vests playing cards and smoking cigars, so the experience took me utterly back to Iberia.
Service is a shambles—for example, it took a half-hour to pay the bill. But who am I to complain? This is a private social club; I shouldn't have even been allowed to wander in in the first place.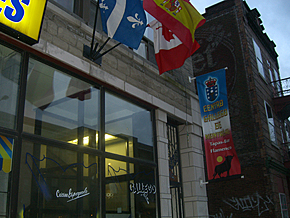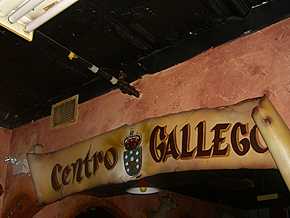 Tortilla—one of my favorite things in the world!
The tortilla (potato omelet) sported a palpable Latin American touch, but is clearly made from a Galician recipe, with lots of onion, potatoes diced in non-uniform chunks, and extremely runny egg (request "buen hecho" if you want it more fully cooked). Bread's authentically Spanish. Flan looked top-notch. To those who've spent time in Spain, or those who'd like to soak up the last remaining ripples of the culture that Hemingway wrote about, this is a remarkable place.
+ + +
When a Chinese woman in a French Canadian bakery (Boulangerie Séraphin; 5008 Boulevard St. Laurent, Montreal; 514-277-9290) hands you a little tart filled with eggy custard that could be either Cantonese or Portuguese, how do you decode what you're eating? What if she turns out to speak good Portuguese?
I rambled theories into my voice recorder while walking through cold, windy streets, munching away contentedly. Hear the short podcast: MP3.
This, for comparison, is a different pastel de nata, and it was a lot better than Seraphin's. I remember its flavor vividly … but can't remember where I bought it. That and the unidentified Chilean alfajor—both evidence of encroaching Chowzheimer's—will haunt me forever.
+ + +
St-Viateur Bagels are typical in a town where bagels spill off the line, hot to the touch, at all hours of the day, and clerks throw them snappily into a paper sack, from which they tantalize you as you strive to get them home intact.
Montreal bagels require some explaining. I wrote the following some years ago, and it still holds true (except that both Fairmount and St-Viateur now have satellite locations).
Just as San Francisco, compared to Montreal, is not really a bread town, neither is New York a bagel town. We have nothing to match the buzz, the palpable bagelicious life force streaming out of the city's two most renowned bagelries, Fairmount Bagel (74 Rue Fairmount Ouest, west of St. Laurent, Montreal; 514-272-0667) and St-Viateur Bagel (158 St-Viateur, Montreal; 514-276-8044).


Montreal bagels are very different from ours. They're a bit tougher in the skin, and a bit breadier (though certainly not fluffy) in the interior. They seem to have virtually no salt or malt or sugar, so it's all about the wheat, which gives them a pretzely flavor. And they're very roasty, with much more oven flavor. They're much better plain and unadorned than ours are, but I suspect they wouldn't toast nearly as well.
While Montreal bagels come in various flavors, it's always the sesames that are hot and fresh (and they're ALWAYS hot and fresh at these places; only a moribund bagel culture like ours in New York would have their goods sitting around for minutes on end).
I thought both bagel shops made excellent—and very similar—products. But in a side-by-side comparison, St-Viateur won. A St-Viateur bagel is a deeper toasty brown, with zestier, more robust texture. It's bigger, browner, tastier, chewier … simply "more" in every facet that makes a Montreal bagel distinctive.


« Previous Post: Refreshed Troops Wallow in French Fries«
»Next Post: Magical Lebanese Time Portal Bakery »