North America Dispatch #29: So Where's the Bourbon?
Frustration in Bardstown
After the dramatic balloon glow, I set out to do what I thought would be an easy thing: find a place to sip a good bourbon in Bardstown, Kentucky, the hometown of Kentucky bourbon, on the eve of the Kentucky Bourbon Festival.
There is one and only one likely venue in Bardstown: the historic Old Talbott Tavern. The woody, atmospheric bar was closed for a private party, but I was directed by a hostess to try their annex, a hellish noisy teen pick-up nightmare. I declined. Around Bardstown I drove, at 9 p.m., searching, like Diogenes, for an honest bar. I might as well have been in Long Island or Phoenix. There's nowhere to drink beyond a handful of lousy generic watering holes. Where are the bourbon-loving festival attendees? WHERE'S THE FREAKIN' BOURBON??
I stumbled into a moldering joint down a dark alley, which only served beer—probably a wise choice, given the scary clientele. The denizens directed me to a sports bar on the edge of town where the bartender—a hardened dye-job blonde in a belly shirt—muttered and mumbled her short list of bourbon holdings, bringing me my $2 shot in what appeared to be a plastic urine sample cup. Having spent years dreaming of attending this bourbon festival, I was determined to make the most of it, and remained perky and engaged amid deafening gangsta rap music and hostile gazes from plastered rednecks who'd never before seen anyone ask a bartender to list the bourbons.
That was last night. This morning, my bourbon-drinking buddy JB arrived on a red-eye flight from California. JB is a busy ice cream executive with two young kids. He's the last person in the world you'd expect to be able to get away, but he's managed, via months of coercion and planning, to convince wife and coworkers to allow this trip. It will take him years to pay back the favors asked and chits cashed, and all he expects is a few days relaxing in a bourbon-saturated wonderland.
After much soul-searching, I decided to give him the bad news right off the bat, figuring low expectations are always the best policy. JB's a pretty cool dude, and he handled the news pretty well. Watch along in this video: Movie file
We spent the day chowhounding the area. First we hit Kurtz's for excellent pie and cobbler, and weirdly latke-like cornbread (this area makes "hot water" cornbread, which appears to be little pancakes).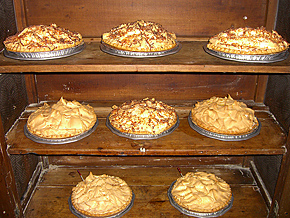 Believe it or not, this is cornbread!
Then we hit Tom Pig's restaurant, mostly just because I liked the name. As with nearly every other restaurant in Kentucky, service is "all you can eat." In Kentucky restaurants, it's generally not possible to eat less than all one can eat. Unfortunately, JB couldn't eat more than a bite of his roast beef sandwich in catastrophic brown gravy:
Tom Pig's fried chicken was quite satisfying, however:
On an impulse, I order grilled cheese, and it was GREAT:
One of my side missions was to check out fried chicken in gas stations, but greatness evaded me. Even this Citgo (the second Citgo station I've eaten at during this trip—see report #16 for the previous one), with an awesome rooster in front, disappointed:
Look at this weird bug we found on the wall:
The Old Talbott Tavern was closed for the afternoon, but we finally found a non-awful alternative for bourbon drinking: Kreso's, an upscale Bosnian restaurant. They're not overtly Bosnian, but that's where the folks are from, and there are some Bosnian gestures on the menu— though, being too stuffed with fried chicken, we didn't try anything.
Kudos to JB, who made a major, major score here, noticing (via a mirror reflection) a bottle even the staff didn't know about. Watch a video explaining this find: Movie file
Then we attended our first official, ticketed festival event: a "cooking with bourbon" demonstration. We ate some uninspired food, hoping against hope that the chef/speaker would liven things up by setting the joint on fire with his flambé: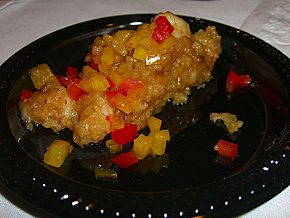 The drippy crowd was non-revelrous, but at least they assured us we weren't the only ones lured into this supposed festival.
We once again missed the chance to drink at the historic, woody Old Talbott Tavern, which closed at 10 p.m.—during a bourbon festival! So we headed over to an ongoing little bourbon tasting at the Chapeze House ...
... where we paid a healthy sum of money for a trayful of micro-splashes in little plastic cups …
...from a dizzying number of bottles:
Sip along with JB and me, on a languorous summer night in small-town Kentucky, via this podcast: MP3
It was a good learning experience, and we found a few new brands to love (Noah's Mill, Old Fitzgerald 1849, and Vintage Rye 23-Year-Old Whiskey), but it was all a bit overwhelming. Lesson learned: Bourbon is not much fun when you're quaffing microsplashes of multiple brands in plastic cups. Very little drinking satisfaction. This is, after all, not chardonnay. This is bourbon, and we want to expansively sip good stuff, cavorting with other aficionados. We remain, alas, frustrated in this ambition.
See how discontent poor JB, all duded out in his "party" shirt, is, despite his brave Game Face: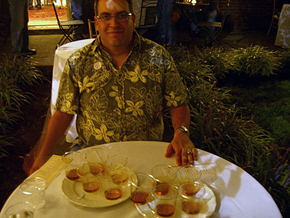 Here are the bourbon price lists mentioned in the podcast:
LeNell's, a bourbon-specialist liquor store in Brooklyn, New York
Vintage Wine & Spirits of Mill Valley, California
Virginia state liquor stores
New Hampshire state liquor stores
This was obviously not the greatest of days. But if hell is the absolute absence of divine love, we've certainly not been damned. Because every few hours in Bardstown, the wind shifts and angels puff into your nose. An unearthly aroma of luscious caramel and vanilla sneaks up on you in an undulating wave of divine consolation.
It took a while before I realized this was a worldly scent rather than a religious awakening. It's the smell of bourbon aging in barrels, which no poet alive could capture in words. This is, quite simply, what your nose always craved. Sporadically and unexpectedly throughout each and every day, no matter where you are (even if there's no distillery for miles around), you suddenly feel utterly enraptured.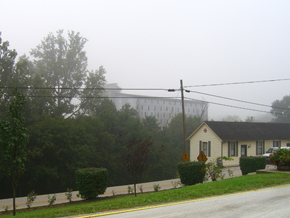 A ghostly bourbon-storage facility.
« Previous Post: Loveless Indeed«
»Next Post: Barrels, Barrels, Everywhere »