North America Dispatch #21: Biltmore Blueblood Blues (Plus Barbecue)
Asheville, North Carolina
Podcast #1: Hear the game plan as I drive from the Piedmont toward the mountains—and Asheville. MP3 file
Lots of people love Asheville, and it's on the way to Tennessee, so I stopped in to check it out. I found a town with a profound identity crisis, equal parts hippie artists, rural North Carolinians, and yuppies.
I recoiled from the yuppie camp (though I am carrying a Treo smartphone), and the artsy crowd seemed pretentious. I guess I felt most comfortable with the country folks, with whom I had the least in common. I fully realized that my comfort level was a bit artificial, since they're polite enough to make you feel welcome even if they deeply dislike the looks of you. But, hey, it works for me. As a resident of Queens, New York, I'm thrilled anytime I say "Hello," "Good-bye," or "Thank you" and hear someone actually answer.
Asheville's fracturedness is perfectly exemplified by its buzzy newish barbecue place, 12 Bones (5 Riverside Drive, Asheville, North Carolina; 828-253-4499). The décor signals a down-home aesthetic, but it's filtered through a layer of self-conscious irony (have a look at their website to get the vibe). This extends to their menu, where the inclusion of things like smoked mushrooms and feta cheese salad with spiced pecans makes one doubt the ingenuousness of items like "mashed sweet taters" and banana pudding served with dry Nilla wafers on the side.
The food at 12 Bones shows the same uneasy ambivalence. Mac and cheese, tasting straight from a box, is either a hip statement, a guileless gesture of down-homeness, or lousy. I'm not sure which, and I'm not sure the kitchen is, either.
My pulled pork sandwich showed great skill and finesse. See the photos to admire the impressive irregularity of their coarse hand-chopping, the deft inclusion of outside brown, and the flecks of herbs from the gossamer finishing sauce. But also notice that the restaurant toasts and butters the rolls. This does contribute a sensual hit, but it's a thoroughly wise-ass move that would provoke outrage—even physical violence—from hard-core 'cue people. That said, deliciousness is deliciousness, and I did enjoy my sandwich very much. Also fine collard greens and local microbrew (from French Broad).
I hit 12 Bones on my way into town as sustenance for the uncertainty to follow. I'd taken a chance by booking a room at the lavish Inn on the Biltmore Estate, having scored a special Internet rate of $199/night, actually a great bargain. I thought it might be interesting to zoom in on a different economic universe at this transitional moment, as I prepare to ingest every rib and catfish in the adjacent state of Tennessee.
Food at the Biltmore itself is a question mark. So, only after the fortification of a good lunch, I drove the long, winding, breathtaking lane through the Biltmore grounds up to the Inn, where I instantly felt as if I'd been dropped into a Laura Ashley catalog. It didn't go well. Hear my multiple lifeline-like calls to Pat Hammond (who's helped run Chowhound.com for years), wherein I whine from amid a lapful of luxury:
Podcast #2: MP3 file
Podcast #3: MP3 file
Podcast #4: MP3 file
Here are two of those rocking chairs I was waiting to occupy:
And here I am reclining in the lower-rent chair I eventually settled for: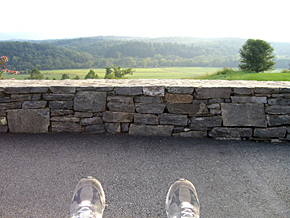 For sure, the surroundings are beautiful. Here are some photos, all taken from the same side of the Inn (I didn't want to stray far from The Chair):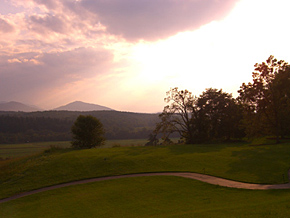 But hound can't live by view alone. After the indignities and annoyances described in my phone call to Pat (plus a bunch I won't bore you with—well, OK, just one more: I chatted about wine with the friendly, sincere-seeming cocktail waitress, and she gleefully told me she knew "just the one" for me to try. I later found it cost double the price of all the other wines—and I caught her pulling the exact same routine with two other parties), I began to feel … well, ripped off. It felt as if many tendrils were aggressively groping for my cash. Hotels obviously exist to turn a profit, but the ancient tradition of hospitality draws a line that ought not be crossed.
When that line is crossed, it doesn't bode well for good eating. Plus I felt a stubborn determination not to pay another buck—not even the additional $44 to tour the grounds. Plus, having finally sat down to consult prior discussion on Chowhound, I read that the food in the various Biltmore eateries is uniformly blah and overpriced. So I'll go to bed without supper, and dash out first thing in the morning.
The Chow Less Eaten
Before I leave the state, here's a rundown of some promising tips I failed to follow up on. If you try any, please report your experiences on Chowhound so that your fellow eaters can benefit!
Monsoon (10630 Highway 67 West, Butler, Tennessee; 423-768-3327) is, I've heard, a primitive but authentic Thai restaurant where you'd least expect it—in the agrarian, God-fearing hills of northeastern Tennessee (right across the border from North Carolina). I unfortunately chose the southern route into Tennessee. Drat.
Isabella's (1720 Highway 88 West, West Jefferson, North Carolina; 336-846-2714), just on the other side of the North Carolina/Tennessee border, is another unlikely outpost, this one for Cuban food. They advertise "The Best Hamburgers in Town," but I'd be all over their ropa vieja. Note: these two leads are courtesy of the folks at Maverick Farms (installment #15), who've not personally tried them.
Smithey's Café (405 North Second Avenue, West Jefferson, North Carolina; 336-846-7737) does "country cooking, made fresh daily from scratch. Affordable food and a comfortable, local atmosphere. breakfast and lunch." I heard about this good-sounding place while surfing for info on Isabella's.
I passed scads of diminutive Biscuitville outlets, was charmed and slightly curious to try them, but declined because of their patent chain-ness. The parking guys, Daniel and Jonathan (see installment #20), say they're great. My loss for being a snob!
Also in northwestern North Carolina, an unnamed lazy Susan place in Linville Falls was recommended by Jonathan, the parking guy. I couldn't find more info but did serendipitously learn about Louise's Rock House (10780 Linville Falls Highway, Linville Falls, North Carolina; 828-765-2702), which trustworthy-sounding folks like a lot for pulled pork. Might be a rare bastion of barbecue in the relatively 'cue-deprived western part of the state.
Smith's Grocery (Dortches, North Carolina; 252-443-4323), right off I-95 near the Virginia/North Carolina border (so a very hot tip for drivers), is a large market whose meat section includes barbecue (note that in North Carolina, "barbecue" always means pulled pork, unless otherwise specifically stated). It was recommended by the talented baker at Johnson's Bakery, a.k.a. Kersh's Old World Bakery (installment #16).
Bob Garner, the North Carolina barbecue expert whom I interviewed in installment #18, especially recommended two places, which he'd described with particular heartfeltness in his guidebook. I regret not being able to get to them: Grady's (Arrington Bridge Road and Sleepy Creek Road, Dudley, North Carolina; 919-735-7243) and Branch's (713 Red Hill Road, Mount Olive, North Carolina; 919-658-2031).
Carolina Wine Co. (6601 Hillsborough Street, Raleigh, North Carolina; 888-317-4499) is where Dave Sit (see installments #10, #11, and #12) mail-orders a lot of his wine. He says their selection and prices are real good.
I never did find North Carolina hot water cornbread (a.k.a. spoonbread) (hear the podcast in installment 20), and this was my biggest disappointment of the trip thus far. It's a whole other grail for a whole other trip.
Some unused Winston-Salem tips from Jonathan and Daniel (the parking guys):
Alex's Cafe (750 Summit Street, Winston-Salem, North Carolina; 336-722-9080) for zucchini sticks.
Sweet Potatoes (529 North Trade Street, Winston-Salem, North Carolina; 336-727-4844) for sweet potato fries.
Mayflower Seafood Restaurant (850 Peters Creek Parkway, Winston-Salem, North Carolina; 336-725-3261) for all manner of seafood.
Burke Street Pizza (1140 Burke Street, Winston-Salem, North Carolina; 336-721-0011) for great Philly cheese steak and cheeseburger subs.
« Previous Post: Great Beer, So-So Antelope, and the ParkingHounds' Big Debut«
»Next Post: Back-to-Back Scores in the Middle of Nowhere »