North America Dispatch #58: Montreal: The Chowhound's Promised Land
Montreal, Quebec
I intend to finish off this leg of the tour with several days in Montreal, one of the world's best food cities. Here's what I wrote about Montreal a few years ago:
Montreal's food scene is guileless. If you see a charming-looking restaurant, it's likely charming tasting, as well. This is a strange land in which the inhabitants have never caught on to the smoke-and-mirrors trick; no Montrealer would ever think to open a pretty restaurant serving lousy food. Needless to say, serious recalibration was required. I mistrust atmospheric places not because I'm a vulgar hawg who'd just as soon eat from a trough, but because such places have so often fed me poorly. Hip vibey places rarely cook worth a damn because they know they can lure the unsavvy via ambience alone.
Montreal's different, and the effect is pure liberation. I drop layers of cynicism as I keep stumbling into devastatingly inviting places, yet never find myself duped. Montreal restaurateurs believe in deliciousness, and they feel obliged to develop all aspects of their enterprises. The notion of lackluster food is simply unthinkable. I can only pray that none of these folks ever visits Soho.
In Montreal, you can just go somewhere—anywhere!—and eat. It's like the promised land. I love walking around and choosing venues only the most callow New Yorker would pick. Dramatic little cafés where patrons sit with good posture and waiters speak in that intense hush. Cavernous candle-lit joints. Too-slick-to-be-true fast food places. Let me put it this way: The best bread I've found in Montreal came from a chain with almost a dozen outlets. They bake not just good bread, but heartfelt good bread; bread with character!
It's like a dream. One wonders whether one's chowhounding skills are peaking (am I like Superman off Krypton?), or whether Montreal is a city in which one simply can't go wrong. Whatever the reason, I've never had a disappointing bite here. Even the humblest places have pizzazz and good food.
It's a luxury to be in a place with virtually no bad restaurants. If you were to select an eatery by throwing darts at the Montreal Yellow Pages, you'd enjoy at least a satisfactory meal, and perhaps a great one. For non-hounds, who haven't developed their ability to differentiate, this is heady comfort—an impenetrable dining safety net. For the savvy, it's a vacation, a carnival ride, a delirious opportunity to turn off the chow-dar and just eat.


... and, after 8,000 miles and several hundred restaurant meals, I could use that! For the first couple of days, I'll be joined by food-loving friends from New York City, Barry and Joel, who work in the film industry and will gladly go anywhere there's free food.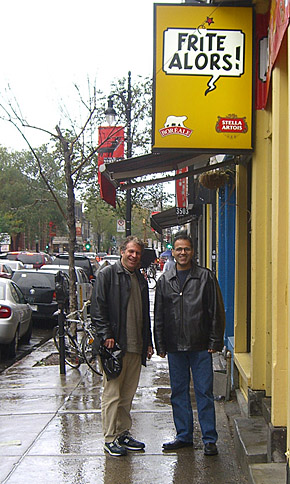 That's Joel on the left and Barry on the right.
Today we've mostly recapped my previous finds. We started out at a place I've been dreaming about since my last visit: Frite Alors (3497 Boulevard St. Laurent, Montreal, Quebec; 514-840-9000), where the pommes frites are fried, properly, in horse fat. They're as good as anything in Belgium.
Per classical Belgian protocol, they fry their potatoes twice. These par-fried spuds await their finishing greasy bath:
Poutine (see report #53) here is a profound rendition, eliciting peals of rapture: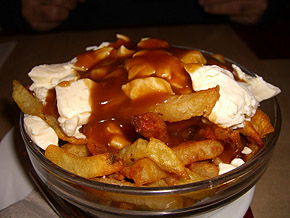 We decided to complete the equestrian experience by ordering horse steak. It's delicious meat—horse was once the meat of choice in Philly cheese steaks, before a newspaper exposé blew the lid off the practice.
As top-notch as the fries are at Frite Alors, their sauces are really the high point. These sauces are not mere afterthoughts; each is made with care and love.
+ + +
I'd actually stumbled upon the grand opening of Frite Alors on my previous visit to Montreal, and on that visit, Au Pied de Cochon (536 rue Duluth Est, Montreal, Quebec; 514-281-1114) was also opening, to much fanfare.
Initial buzz focused, as a surprising amount of restaurant buzz seems to, around foie gras. Au Pied de Cochon made foie gras poutine, a conceit that titillated an international cadre of food journalists in town for some conference. Give that publicist a medal for timing things to a T.
I didn't try Au Pied de Cochon at that time; it was too booked up by imperious pundits. But I gave it a go this time, and ordered the aforementioned foie gras poutine, which was sublimely luxurious: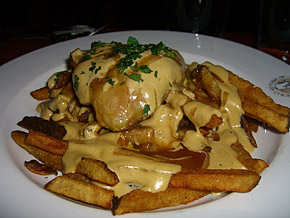 Blood sausage with mashed potato and roasted apple was all kinds of hearty goodness: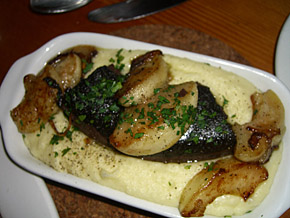 And, for dessert, pouding chômeur, which translates as "poor man's pudding," a spongy biscuit afloat in maple-y soup.
Joel went cuckoo-for-Cocoa-Puffs over the pudding, swearing and kvelling dramatically as he scraped persistently at the dish with his spoon: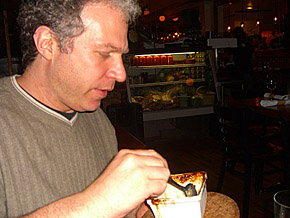 This place is a carnivore's bastion; take a look at the entrees: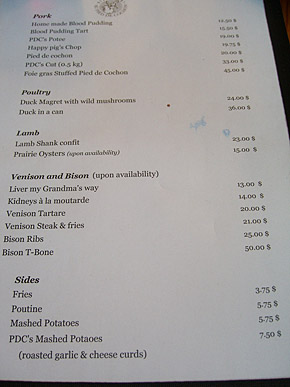 Our first blessed slice of the astounding bread of Montreal:
+ + +
Patati Patata Friterie de Luxe (4177 Boulevard St. Laurent; 514-844-0216) is just a corner coffee shop. Only Montrealers could make it a place with style, verve, and soul. Here's my original review (which still holds true):
Even the diners in this town kill … and are hip enough to make you feel as if you're in an indie movie … and are run by people who care a lot about food. What sad world do we inhabit where it's surprising that a place exists where all restaurants are run by people who care about food!
The menu at this thoroughly warm and inviting little corner luncheonette is posted on a wall board, and it's uninspiring. Burgers, fries, salads, some crepes, etc. You search for the interesting item, the catchy wrinkle, but there is none. But observe the skinny kids cooking behind the counter. They're working very fast, but … they're seriously COOKING. These short order cooks are preparing their food with great pride and also palpable awareness that it will be eaten by someone. Watching them work is intoxicating, not to mention hunger-inducing, and the result is pure culinary warmth.
French fries are done in peanut oil (nice!) and are extraordinarily satisfying and came with good tart dipping mayo. The personable waiter/chef asked how I liked them, and cared about my answer. And he's proud of the local microbeer (Les Brasseurs du Nord, which makes unexceptional beer which nonetheless has a certain charm, like humble French table wine), and pours it with gusto.
Lots of zip, pride, warmth, and a friendly, intelligent youthful crowd. Salads look awesome. The whole thing is dreamy.
This time I got borscht (simple, good) with more of those terrific fries:
+ + +
Coco Rico Rotisserie (3907 Boulevard St. Laurent at Napoleon, Montreal; 514-849-5554) is a cheap late-night joint for rotisserie chicken and potatoes. Plump birds are roasted to a brown, salty, juicy turn, and the potatoes (which sit beneath the spinning poultry, catching the fat) are a megacaloric delight. The place is owned by Portuguese, and they also sell swell egg custard tarts (pasteis de nata).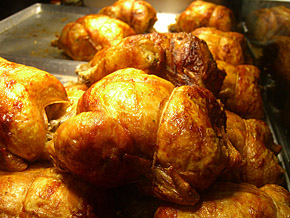 + + +
Barry eats with me frequently, so he's learned to pace. Joel, as photos above indicate, made the mistake of eating full-out at each stop (hear the precise moment—after the horse steak, after the foie gras poutine, and after the blood sausage—when he realized what he was in for in this podcast: MP3). He was not a happy camper by the time we came to our final bite of the day—a nightcap of smoked-meat sandwiches from the legendary Schwartz's Deli (3895 Boulevard St. Laurent, Montreal, Quebec; 514-842-4813). Smoked beef is sort of halfway between corned beef and pastrami.

The midnight queue at Schwartz's.

Meaty delights seen through a greasy window.
We smuggled the sandwiches into the hotel and scarfed them in an empty conference room, where Joel was miraculously revived by the magic of Schwartz's fleshly delights.
+ + +
The Chow That Got Away
The following wonderful Chilean alfajor (lardy shortbread cookie stuffed with rich dolce de leche) came from a bakery/cafe whose business card was lost. It's on a north-south side road not far from Au Pied de Cochon. I won't forgive myself until I've found the place and tried more stuff.
« Previous Post: 36 Sublime Hours in Newfoundland«
»Next Post: A Meal in Pitch Blackness »