North America Dispatch #32: Madly in Love with Maxine's
Bardstown, Kentucky
Any breakfast that includes mashed potatoes can't be all bad. And while nothing at Stephen Foster Restaurant (503 W. Stephen Foster Avenue, Bardstown, Kentucky; 502-348-5076) will light your heart on fire, I did find their buffet charming. JB did not. Per my argument in report #25, I felt JB undervalued the mashed potatoes because he'd had so many crappy renditions—empty, soulless versions of this, the Real Deal.
Watch, as I attempt to force-feed him bite after bite until he acknowledges their aesthetic worth, in this video (complete with weird clicking and perpetual refocusing, which, to my mind, just adds to its cinematic trippiness): Movie file
Later, we tried for the fourth time to have a drink at historic Talbott Tavern, the only really bourbonish hangout here in the epicenter of bourbon.
We waited while they closed the bar for an hour to set up for a musical act, which turned out to be some lame singer/songwriter. The gorgeous, centuries-old, rife-with-ambiance room was jammed with young beer drinkers, and we tried to kibbitz with the bartender—a sullen kid who didn't give a damn about bourbon. Finally, we walked out, resolved to never return.
JB and I have tried restaurants all over Bardstown, invariably charmless all-you-can-eat buffets. But the bourbon frustration has been worse. We'd attended bourbon tastings, tours, and events, and queued up on lawns by day and by night to tipple bits of booze out of plastic cups. We'd discovered secret bottles at Bosnian bastions, and drunk plenty of wonderful Bulleit on the patio back at the B&B. But after several days, we still hadn't settled in anywhere and just drunk a glass of great bourbon in a properly relaxed, expansive environment among fellow aficionados. As JB noted, we'd had far more bourbonish experiences sipping in the backyard of his Oakland, California, home.
Then we found Maxine's (402 Cathedral Manor, Bardstown, Kentucky; 502-348-3459).
Maxine's is located on the outskirts of Bardstown, right next to one of those bourbon-storage facilities that pumps angelic nectar into the Bardstown air.
Maxine's is not well known by locals. And those who've heard of it seem to shudder at the mention of its name. Maxine's is an off-the-beaten-track, somewhat-forbidding roadhouse frequented by, we heard, faceless ogres. We were warned to take great care there. The prospect of physical violence was raised.
Of course we ran right over.
I love Maxine's. And I don't say that lightly. I mean, I'm literally in love with a bar. Bardstown doesn't realize what they have there. Trepidation, I suppose, is the natural reaction of those who've forsaken the richness of life toward those who have not. Few people deserve Maxine's (I'm not sure I do), and that's fine, because Maxine and her husband, Robert, are elderly and couldn't handle much of a crowd, anyway.
You must fly into the Louisville airport and drive the 45 miles to Bardstown for an evening at Maxine's, and you must do so quickly. Because here you'll find a last vestige of the best sort of old-time Southern culture. When Maxine's closes, as it will any day now, we might as well all move to Norway.
Yes, Maxine's is dark and lived-in. It's a time-machine throwback lacking the modern comforts of crap food, crap music, and overall plastic soullessness. Everybody's a little quirky. But Robert remembers your drink (forever, I'll bet) and cooks perfect food, and Maxine is a warm, bawdy hoot. Both have hearts as big as the state of Kentucky. Maxine and Robert are not real religious—they like a beer or three once in a while—but their sinner spirituality makes them kinder and wiser than most of the prim, proper folks who'd never set foot in their tavern.
The following photos are bright from the flash and don't convey the ambiance. Maxine's is darker and more broody/glowy, like a tavern in an old fable. I wish I were a good enough photographer to really capture it.
We settled in and drank six-year-old Barton bourbon with a single ice cube (everyone else has served us bourbon slurpees, brimming with ice) in the correct glass at the correct bar with the correct knickknacks all afternoon, with Robert talking to us. Not entertaining us by playing the old-timey Southern dude, but really TALKING to us—and frying us up memorable cheeseburgers.
It's hard to describe the deep joyful relief we were feeling. It was also relieving not to hear, for the thousandth time, "Where y'all FROM?"—the only-semipolite version of "Y'all aren't from around here, are you?"
We noticed, perched with pride of place on a shelf behind the bar, an ancient, unfamiliar-looking bottle of bourbon. JB is staring longingly at it in the top photo, above. Here's what he's focusing on (it's the bottle to the left of the Knob Creek):
Here's a close-up of the bottle …
... and a mega-close-up:
This bottle had been there, sealed, forever, and Robert gravely informed us that it would remain that way.
This petty disappointment did nothing to reduce our joy at Maxine's. Moaning with profound contentment, JB and I made our way out, telling Robert we'd be back later that night, much better dressed.
Then it was on to the Bourbon Festival's closing gala, a $250/person fete where everyone who's anyone in bourbon (plus nobodies like us) braved the long queue decked out in black tie.
JB in a tux looks like the very epitome of Bourbon, no? Neat trick for a Jewish ice cream exec from California!
The first hour consisted of a fun tasting of interesting bourbon cocktails, plus most of the major brands.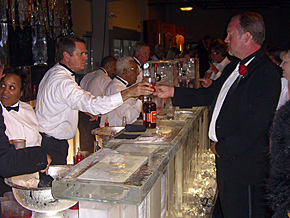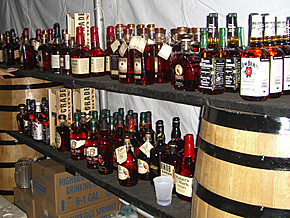 Best of all was an errant bottle of Family Reserve Rye from the Pappy Van Winkle people.
Other attendees ignored it, but JB and I nearly finished off the bottle single-handedly. It's great stuff, and rye is increasingly popular, but the company can't produce enough to keep up with demand (it's hard to latch on to trends when a product requires the better part of a decade to mature!).
JB's trip was made by getting to meet his hero, Jim Rutledge, the legendary master distiller of Four Roses (who's quite an unaffected nice guy, by the way).

Hmm … maybe JB's not exactly the epitome of Bourbon after all …
After the tasting hour, we headed into the tent for dinner, which turned out to be a catered nightmare that could just as easily have been a Long Island bar mitzvah. After an ugly encounter with the first course, struggling to make conversation with the dull strangers at our large table, we bolted for the car and sped back to Maxine's. No one batted an eyelash as we entered in our tuxedos, and we spent a life-affirming night deliriously gobbling Robert's soulful steak and potatoes, sipping good bourbon, and schmoozing with Robert, Maxine, and their diverse clientele (including a Bardstown elder who regaled us with bourbon-industry anecdotes and inside dirt). Robert remembered that I'd mentioned loving fried chicken, and he'd bought some chicken wings between our visits to make up some off-menu fried chicken for us. I don't think he charged us (I need to note that I work anonymously—neither Robert nor any other food professional in these reports had the slightest idea that I'm a writer).
The dinner crowd (perhaps a dozen customers) eventually cleared out, and Maxine, who walks a bit haltingly and seemed completely exhausted, sighed at the sight of all the dirty dishes. I got up and began clearing plates, but Maxine grabbed my arm and begged me to stop ("Honey, me and Robert can clear that out in 20 minutes, really!"). Having coaxed me back to my chair, she cracked open the ancient bottle that had sat on that shelf for decades.
Rereading that last sentence, it seems unbelievable. Why would a couple of new customers—regardless of how friendly and in love with you and your place they may be—inspire you to do such a thing? It's because Maxine is wise, and she knew we'd fully appreciate it and she understood that we needed it. She sensed that we were desperately seeking from Kentucky something that was uniquely hers to give. We had her treasure and we had her heart … as she had ours.
The bourbon was sublime (and on the house). The night was sublime. Kentucky was sublime. The trip was sublime.
« Previous Post: The Greatest (Chowhounding) Story Ever Told«
»Next Post: Bourbon Redux »