North America Dispatch #28: Loveless Indeed
Florence, Alabama, to Nashville, Tennessee, to Bardstown, Kentucky
This was a big traveling day. In God-knows-where Alabama, I passed and fell in love with this place: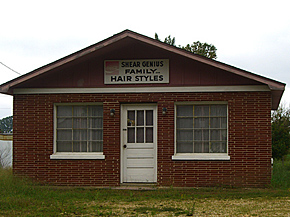 As with most of my trip, I was (obviously) taking a minor road. I discovered to my delight that you can go 60 miles per hour on lots of secondary and even tertiary roads down here. There's just no reason to take freeways. Well, that's not true. I walked around Florence for a day and a half before realizing my watch was an hour ahead, because they don't announce the time zone switch on the smaller roads!
Finally I got on the Natchez Trace Parkway, a hip, lesser known scenic southern highway (compared with the more famous—yet strangely deserted—Blue Ridge Parkway).
The Natchez Trace connects Alabama and Mississippi with Nashville, and the cool thing is that while many highways were built on trails blazed by Native Americans or pioneers, this one was established by migrating animals. Tens of thousands of years ago, it seems, buffalo plied this route. Back then, presumably, the food at Loveless Cafe (8400 Highway 100, Nashville, Tennessee; 615-646-9700) had some life to it.
Not anymore. Positioned at the northern terminus of the parkway, choked with tourists, and metastasized into a spate of grotesque spin-off businesses, the Loveless Cafe is just grinding out plate after spiritually inert plate.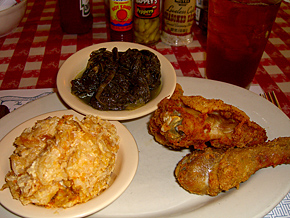 Ought not a dish called "home fry casserole" be innately delicious, simply on principle? Alas, it was just a mute cheesy lump.
The food looked more or less right, but there's just no "there" there. You can tell that, 17 chefs and 400 corner cuttings ago, this was a worthy joint. But now the only remaining deliciousness is in the simplest of simplicities: The biscuits may not be very good anymore, but dip them in sorghum molasses (which comes with), and possibilities start to arise.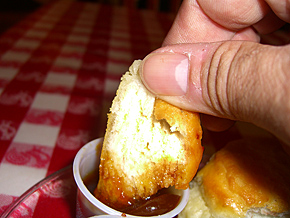 + + +
At long last, Bardstown: ground zero for the bourbon industry, and site of the annual Kentucky Bourbon Festival. This little-reported event has occupied my imagination for years. My friends and I have fantasized about attending en masse to pay our respect to the friendliest drink ever. Finally, I've made it! And my lazy-ass friends couldn't get it together to join in … except my longtime bourbon-drinking buddy J.B., who's taking the red-eye tomorrow (you'll meet him at breakfast).
I got into Bardstown late and rushed to the very first event of the festival: a "balloon glow" at the Bluegrass Motor Speedway. What, you ask, is a balloon glow? Well, you've just got to see it to believe it. I can only pray that I've done justice to this exciting spectacle in the following video: Movie file
« Previous Post: Still Holed Up in Alabama«
»Next Post: So Where's the Bourbon? »