North America Dispatch #41: A Memo to My Employer
Boston, Massachusetts
To: Mike Tatnum, CNET Networks
From: Jim Leff
Dear Mike,
It is with a heavy heart that I send you this.
As you know, I've taken quite seriously my position as Chowhound-at-Large with CNET Networks, and have done my utmost to maintain my reputation by making frequent finds and generally reinforcing my reputation as a Food Expert™. Furthermore, I'm proud to state that my expenditure of company funds over the course of this CHOW Tour has been prudent.
Today, however, I let everyone down: you, the Chowhound and CHOW brands, and the entire CNET family. I have not just eaten badly, which would be forgivable, but I allowed myself to be sucked into a bad eating experience with eyes wide open. I failed to remove myself from an eatery unbecoming of a chowhound. I ordered against intuition. I frittered away a great big wad of company money. And I kept throwing good money after bad.
For your internal corporate use, I've provided the following disclosures on the meal (at B&G Oysters, 550 Tremont Street, Boston, Massachusetts; 617-423-0550). There were witnesses, both of whom refused to sign NDAs (believe me, I tried).
Disclosure 1: The Suffocatingly Self-Conscious Bohemian Vibe
Disclosure 2: The Bread
As soon as I confronted the small, pretentious brick of bread, which seemed to not only lack flavor, but to possess a sort of negative flavor that actually draws quality OUT of the eater, I should have run like the wind. Instead, I stubbornly continued the meal.
Disclosure 3: Oyster Overconsumption
My first misappropriation of company funds was in ordering a large plate of overpriced raw oysters that seemed to brim not with oyster liquor but with salted water—a cynical brine that scorched the tongue and diluted the flavor.
And I exercised poor judgment and weak discipline in allowing myself to be persuaded by my tasting colleagues to order yet another oyster sampler plate. Make no mistake about it, Mike. I blame only myself. I am, for purposes of ordering, "The Decider," and I decided incompetently. I deemed the funky, spoiled Pepperell Cove oysters in the first platter an aberration (the Island Creeks, Salutations, Cuttyhunks, and, especially, Marin Bays were quite good). But the second platter (of different varieties) had some off ones, too. There should not have been a second platter.
Disclosure 4: The Spicy Clam Stew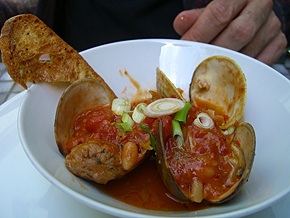 Clam stew with a cloying, annoying sauce. I should have known better than to order this here.
Disclosure 5: The New England Clam Chowder Avec Lardons
A $10 cup of cream and black pepper. No worked-in essences. No discernable clams, no oceanic brine.
Disclosure 6: The $24 Maine Lobster Roll
The meat was a bit rubbery, and the whole was bland and sweet (cole slaw was sweet, and the roll itself was sweet). French fries were soggy and tasted as if they'd sat for ages in water before frying, all spudly goodness leached out.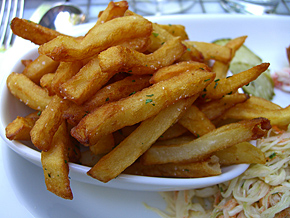 I should also mention that most everything here is splashed with inappropriately showy aromatic olive oil that dominates the subtle seafood flavors.
Disclosure 7: Banana Split with Homemade Vanilla Ice Cream and Candied Walnuts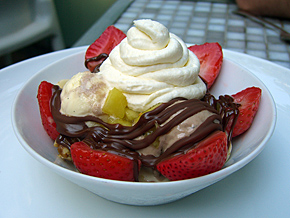 This slop didn't know if it wanted to be "real" or impressive or yuppie or gourmet. Just a bunch of fancy ingredients that didn't work together at all … a mess. For nine bucks.
A decent Trimbach Riesling was way overpriced at $64.
Disclosure 8: The Bill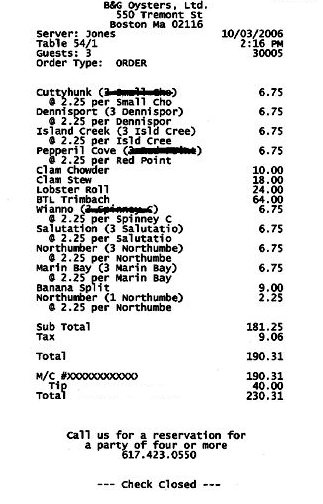 The bill was $190.31 for the three of us before tip. That's $75/person (with tip) for a not-very-good lunch that left none of us satisfied.
Mike, I can only fall on my sword and assure you that if you wish to cancel the CHOW Tour at this point, I'd be completely amenable to fulfilling my employment via some light typing or steno work, peeling vegetables, parking cars, or otherwise filling in wherever my feeble talents (which sure as hell don't include savvy dining) might contribute.
Abashedly,
JIM LEFF
Chowhound-at-Large
« Previous Post: Cambodian Karaoke, Cider Doughnuts, and a Trampling by Stallions«
»Next Post: What You Call Sprawl, I Call Heaven »