North America Dispatch #39: Day After Wine Tasting: Movin' Slow
New London, New Hampshire
I was a little late checking out of Chateau Jack-and-Thelma this morning, as was George Sape. George is one of my heroes. He has far too many interests and hobbies spilling out of his overextended life as a top corporate lawyer, but he's always ready to plunge intrepidly into yet another. The largest of his recent infatuations has been cheese. George travels around everywhere hunting for great artisanal little cheeses; has built a vast network of informants, porters, and facilitators who funnel the stuff into various caves he keeps around New York City; and prints up an annual thick, glossy compendium of cheese-tasting notes that's the hip read for cheese lovers (I've been begging him to let me put the notes on Chowhound; negotiations continue).
George, who was knighted by the French government for his cheese activities, is so knowledgeable about the stuff that his entrance with a wheel under his arm is a magical happening akin to Santa Claus showing up with a big sack of presents. Best of all, George is fueled by wide-eyed enthusiasm rather than pomposity. I decided I'd make it a priority on the rest of my trip to find some amazing cheese George doesn't know about. "That's easy!" he booms. "Great undiscovered cheese is everywhere!"
Yep, I aim to be George when I grow up (hopefully without the lawyer part!).
Here's George puttering around in the kitchen, communing with a wheel of something or other:
Here's some audio of George at yesterday's tasting, listing some of the exquisite cheeses he'd brought along, explaining terms like artisanal and farmstead, and revealing the barnyardy je ne sais quoi of French raw-milk cheeses. Check out the podcast: MP3.
Last night, George whipped up, la-di-da, the best Caesar salad I've ever had. It was pretty stark looking, and the anchovies were powerful, but in the mouth it was all about the romaine—considerable man-against-nature work was transparently devoted to elevating its natural goodness. I swear I could taste the chlorophyll. And the croutons, obviously from the photo, below, were just freaking unbelievable.
I believe George made this fantastic pasta too, whipped up from leftovers excavated from Jack and Thelma's fridge.
Two chefs had been brought in this weekend: Ted Fondulas (of Hemingway's) prepared the formal Saturday night dinner, and Andrew Gruel, of Jack's of New London, did the less ambitious Sunday lunch. I got a kick out of Gruel's touch and figured I'd try a bite at his restaurant on my way out of town.
I was surprised to discover that Jack's of New London is no more than a coffee bar with soups and sandwiches. But what soups and sandwiches! Have you ever seen more bacony chowder?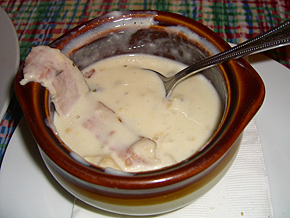 And even if you're not a wrap person (I'm not, much), you have to admit this one looks real good (fillings were consummately fresh and well balanced):
« Previous Post: Wine Geek Boat Trip«
»Next Post: Cambodian Karaoke, Cider Doughnuts, and a Trampling by Stallions »