North America Dispatch #54: A Tale of Two Restaurants (or, Yin 'n' Yang in Nova Scotia)
Wolfville, Nova Scotia, and Port Williams, Nova Scotia
I've traversed Nova Scotia, trading the bucolic salty south shore for the bucolic salty north, where I scored a surprisingly inexpensive room ($125 Canadian) at hoity-toity Blomidon Inn (195 Main Street, Wolfville, Nova Scotia; 877-542-2291). Ah, sweet shoulder season. Look at this joint and tell me: Could life possibly get any quainter?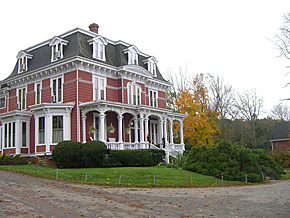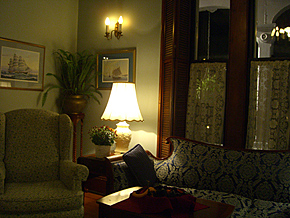 The dining room splays out among various alcoves on the first floor, making for a luxuriously personal setting. Here's the view from my table:
Aside from the unbeatable ambiance and impressively professional service, it was a perfectly fine, thoroughly unmemorable meal. In fact, I can't recall a single bite. But I'm glad to have done it … once (at this price—$53 Canadian—I wouldn't return for seconds).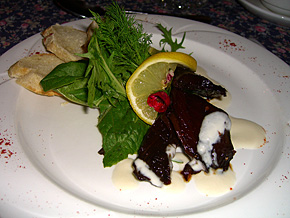 + + +
Tin Pan Bakery & Bistro (978 Main Street, Wolfville, Nova Scotia; 902-542-5649) is one of the most enigmatic places ever. It's as humble as can be—just a modest cabin by the side of the road offering a daily soup, a sandwich or two, and a couple of pastries. The woman in charge is quiet and polite, but her eyes brim with intensity.
I ordered potato leek soup (with biscuits), plus a muffin, and took it all out to the car, where one sip told me this was the most ingenuous of soups. Very little salt—in fact, it had very little flavor, though the oddly shaped chunks of waxy potatoes told me that the chef really loves potatoes. But it was the strangest thing: Nothing happpened in my mouth, yet this was one of the few items I've completely finished on this trip. I just couldn't put my spoon down.
I've included two shots, hoping that if we all stare at them long enough, we'll figure out what the magic is: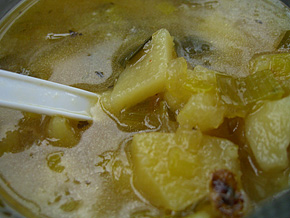 The biscuits also were phenomenally bland. I arrived late in the day, so they were slightly tough, too. And I couldn't stop eating them. What weird, enchanting food!
This pensive muffin is also from the Tin Pan. Yup, utterly flavorless and utterly irresistible:
Only now, as I review these photos, have I noticed Tin Pan's motto at the bottom of this sign:
Something about the font, the spacing, the capitalization, even the wallpaper behind the sign makes me suspect there's an intelligence at work. The supernatural effect is, I believe, no accident.
+ + +
Tempest World Cuisine (117 Front Street, Wolfville, Nova Scotia; 902-542-0588) is a much-acclaimed restaurant, whose chef/owner, Mike Howell, seems to be one of Nova Scotia's buzziest chefs.

He's up on the latest trends—for example, his upcoming "Surreal Dinner."
I was seated within view of the kitchen, so I couldn't get away with taking lots of photos, but you can just visualize splashy, pizazzy presentations. I did squeeze off this one hasty shot of my slow-braised pork bellies in sour cherry gastrique:
The little square potato thingies on the left tasted rewarmed. The beety/cheesy thingies, on the right, were obnoxiously rich with cheese. And the squares in the center with the sauce are the pork bellies, which tasted nice. My pumpkin risotto was deftly made, but soulless. Pineapple and lemongrass ice cream sandwich ("our own lemongrass ice cream between layers of coconut milk–poached pineapple") suffered from a remarkably low deliciousness-to-cleverness ratio.
"It's SHOWTIME!" exuberates your food. And I suppose it truly is. This kitchen musters fine technique, interesting (if not always successful) juxtapositions, and sophisticated broad strokes. But everything left me stone cold. I had to force myself to take plodding second bites of things.
It dawned on me that Tempest World Cuisine, where skillful cooking entices nary a second bite, is the precise yang to the yin of Tin Pan Bakery & Bistro, where poor cooking is downright magnetic. A high-powered laser experiment must have gone awry, splitting a genius chef into two dysfunctional half-chefs. One works in a silent bleak cabin, the other a few miles away amid splashy accolades. One day I hope they find each other and merge.
+ + +
Café Central (corner of Cornwallis and Webster streets in Kentville, Nova Scotia) is just some generic small-town coffee joint with counter service, but their chowder and salad were leagues better than I'd expected. Have I just been chowhounding well, or are ordinary restaurants starting to try harder than they need to?
Classy-looking chow for a pedestrian coffeeshop, no?
I've been drinking more and more rooibos tea (see report #53), and liking it better and better: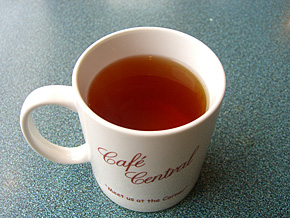 + + +
Fox Hill Cheese makes ordinary hard cheeses (though their fenugreek havarti wins points for creativity), but also sensational quark. You can find their products at the Saturday Halifax Farmer's Market, at 1496 Lower Water Street, or at Fox Hill Cheese House (1660 Lower Church Street, Port Williams, Nova Scotia; 902-542-3599), where friendly staffers offer samples.
+ + +
This area was a bastion of Tories opposed to the American Revolution, and the British flavor is still palpable—particularly in the dark, woody, creaky Library Pub (472 Main Street, Wolfville, Nova Scotia; 902-542-4315), which could easily be a bar in Oxford. Downstairs, the same owners run the Coffee Merchant, a warm little hangout for teetotalers.
« Previous Post: Dashing Up to New Brunswick«
»Next Post: Halifax: Faux Turks and Primordial Corned Beef Hash »