North America Dispatch #18: Great 'Cue with Bob Garner, Two Pillars of Mexican Cooking, and a Deafening Honduran Pool Hall
Chapel Hill and Durham, North Carolina

What a thrill to meet Bob Garner, author of one of my favorite guidebooks—Bob Garner's Guide to North Carolina Barbecue.
Bob was generous enough to meet me and some friends for lunch at one of his favorite places: Allen & Son (6203 Millhouse Road, Chapel Hill, North Carolina; 919-942-7576). It was great to hear Bob's barbecue wisdom in person, and I'll share some audio highlights with you.
Podcast 1 —MP3 file: We join in as Bob's offering his thoughts on the places I hit yesterday.
Podcast 2 —MP3 file: Bob weighs in on the delicate issue of "outside brown."
Podcast 3 —MP3 file: Bob offers a neophyte in our party a quick tutorial in North Carolina 'cue:
Podcast 4 —MP3 file: Background info on the incredible personal touch and energy applied by Allen & Son's chef/owner, Keith Allen.
Podcast 5 —MP3 file: Discussion and analysis of the hush puppies.
Podcast 6 —MP3 file: Bob (who's never visited our site) eloquently expresses the chowhounding ethos.
Podcast 7 —MP3 file: Bob's further ponderings on the outside brown issue, left on my voicemail later that day.
I loved just about everything about Allen & Son. It's truly benchmark barbecue, and sides and desserts are terrific, too. But one thing: Why on earth would chef/owner Keith Allen go to the trouble of whipping up great fresh desserts daily if he's going to allow waiters to tragically destroy them by nuking before serving? Superb piecrust is rendered sodden; cobbler has its soul sucked out. It's pure blasphemy.

Bob Garner addresses his rapt admirers.



Pound cake and (homemade) ice cream.


Chowhounding Durham

Chapel Hill is intensely charming and tightly zoned. It's not the sort of place where one finds finds. But upon hearing that nearby Durham is more sprawling and less explored, I made a beeline and within minutes came upon the astonishing Taqueria El Paraiso (111 South Alston Avenue, Durham, North Carolina, 919-680-4728).
Paraiso means "paradise" in Spanish, but that's not the half of it. This is a major point of culinary light. The best stuff here is vastly better than anything I had in Mexico (and companions with more Mexico experience than I were inclined to agree). Their menudo rocked my world. It was intensely garlicky, spiced to perfect balance, and layered as deftly as a top-tier fireworks display. The tripe was clean-tasting and tender. The secret ingredient? Ham hocks!
Their posole was even better. Food this good is hard to describe, but let me just say that whereas other posoles taste like soup, this one tasted like a symphony or a novel or a torrid romance. The sensation is too much for one avenue of perception alone, so the bliss overflows into synesthesia. I'm so glad to have had my camera along, because for some reason the Casio Exilim 750 has the magical ability to convey soul. Take a look!

Humble exterior belies greatness within.



I forget what they call this, but it amounts to beef fajitas. The beef is insanely tender and bursting with soulful flavor, and it yearns (insofar as meat yearns) to soak up the garlicky sludge of black beans served alongside. Oh, and the rice alone is worth a trip to North Carolina.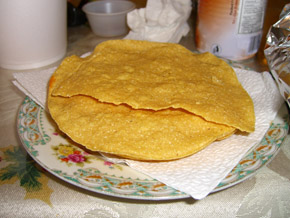 Tostadas for the posole are utterly greaseless and gushing with earthy corn flavor.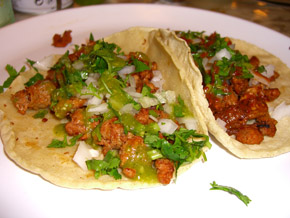 Tacos on great fresh tortillas. The salsa verde is the best I've ever tasted (the rojo is merely stunning).



The previous tacos were terrific, but the cabeza tacos (beef head —mostly cheek meat, I believe) are life-changing. Sure, the pool of oozing oil is a bit intimidating. But … gawd …
These guys are Oaxacan, by the way. They make a few customary moles, but everything's from scratch in small quantities, so unless you arrive quite early, the specialty items will have run out. El Paraiso makes several varieties of tamales, and I was crushed not to get any in two visits (next time I'll go at 9 a.m.). The wistful look in the eye of the counter guy indicated to me that they are magnificent.


I had a late-night supper in a Honduran pool hall, just on impulse upon driving by. Mi Pequeño Honduras (2201 North Roxboro Road, Durham, North Carolina; 919-220-3702) is quite a good venue for a pretty rare cuisine. But jaded by the superlativeness of earlier discoveries—plus the fact that I was pretty damned full—I failed to get as excited as I probably should have. In any normal day of chowhounding, this would have been quite a find indeed.
Baleada, a huge tortilla wrapped around curdy cheese and beans, was both interesting and delicious. Pupusas are more Salvadoran than Honduran, but I loved the kitchen's take on them. They had a lively, sexy freshness, and the curtido (akin to cole slaw, the traditional pupusa accompaniment) was unusually spritely. Even in my delicate state, it took much self-discipline not to polish off the plate. I was less tempted by the tajadas con pollo frito, though. This was a perfectly OK deep-fried half bird strewn with perfectly fine fried green plantains and curtido. Not something to especially transport gringo food-lovers to Honduras, but good stuff for homesick immigrants.
Another factor in my underappreciation: The music was nothing short of bone-shattering. Get the idea from this short podcast. MP3 file


I didn't want to stop again, being achingly full and exhausted, but I sensed grandeur and so ducked in for one last very-late-night check-out at a place right near Mi Pequeño Honduras, Taqueria Y Birreria Los Comales (2103 North Roxboro Road, Durham, North Carolina; 919-220-1614). I've seen restaurants like this before: a gleaming, bracingly efficient Mexican eatery clearly run by a very strict perfectionist owner who keeps an extremely tight ship. Hours are late, prices are fair, and service is brusque (the efficiency ethic irons out all the sweetness).
Every inch of the place is sparklingly clean—even the toppings/condiments bar at 1:30 a.m. They've earned a 98 out of 100 health rating, which is the best I'd seen in North Carolina. No corners are cut in the cooking, either. Everything's done just right—both delicious and authentic enough to impress anyone. What more can you ask?
Well … soul! Buche (pork stomach) and birria de chivo (stewed goat) tacos were technically perfect and extraordinarily enjoyable, but lacked that loving feeling. As at Paraiso, tortillas are made fresh, but these are a tad cold-spirited (if these tortillas and the ones at Paraiso ever touched, the matter/antimatter reaction would implode the galaxy).
But it doesn't matter. It's just another sort of greatness. I wish I had time to stick around and work through the whole menu; there are things to learn, and everything is prepared so deftly that I could establish baselines on foods I'm less familiar with. I've never drunk such pristinely ricey horchata.
The menu at Los Comales includes a smattering of Salvadoran items, and I'd particularly like to try their pupusas. Maybe the Salvadoran chef has more warmth.


I don't know any other Mexican eatery currently operating on the East Coast that can even begin to rival El Paraiso or Los Comales. And I need to get earplugs and return to Mi Pequeño Honduras sometime for more thorough checking. All in all, it was a rewarding day of free-form chowhounding. My streak remains intact!
« Previous Post: Let the Barbecue Begin«
»Next Post: Fried Chicken, Frozen Custard, and Barbecue »