North America Dispatch #46: Seafood Saturation
The plan is this: to zip frenetically around Rhode Island's jagged shoreline, trying bites of seafood here and there, while attempting to remain relaxed and seashoreish about it all. This is the gorgeous peak of Indian summer, and I aim to bask in balminess throughout my intense chowconnaissance.
I've found the perfect place to stay: Middletown. It truly is the Middle Town, 15 to 20 minutes from just about everywhere. What's more, Middletown itself has some good places. Finally, it's quite close to Newport, though outside the bubble of expense and traffic.
Newport has little in common with the rest of the state. Rhode island is the New Jersey of New England: working class, "ethnic," just a bit scruffy but with lots of raw beauty. People aren't just unpretentious, they're anti-pretentious. And amid this blue-collar stew is the non sequitur of old-money Newport. I hear there are some good things to eat in Newport, and I like to plunge into the widest range of scenes—especially non sequiturs! But I was so wrapped up in shacks that I ran out of time and missed hitting Newport proper.
+ + +
The day started in unexpected triumph. Rather than spoil the tale, I'll let you listen to the podcast I recorded just after the Chowhounding Gods smiled upon me: MP3.
My recorder's battery died in mid-podcast, but here's the rest of the story. This diner, which I'd found ten years earlier and dreamed of ever since (but was never able to identify), suddenly appeared. Ecstatic, I pulled off the road, recorded the above jubilant podcast, and went into Bishop's 4th Street Diner (184 Admiral Kalbfus Road, Newport, Rhode Island; 401-847-2069).
It is, as I'd recalled, on a traffic circle:
And it's still a beautifully preserved old-fashioned railroad-car-style diner.
The diner is under new ownership, and I was crestfallen to spot a young kid in the kitchen who looked like he'd rather be out skateboarding. I couldn't have been more wrong. His cooking was fabulous (more on that in a minute), and this chef's a formidable dude. He walked by as I was browsing New England's Favorite Seafood Shacks, and at a mere glance—without slowing down!—spewed comments about food quality at each place mentioned on the page. He doesn't miss a thing, and is totally passionate about his job, boasting that "some people say we do better seafood than the shacks." I didn't order seafood there, but I completely believe it's true.
Chowhounding requires constant theorizing. But theories require presumptions. And once again, I'd been shown the pitfalls of stereotyping based on preconceptions. Preconceptions are inevitable, I suppose, but the trick is to be flexible enough to abandon them on a dime.
But about the food. Yikes, have a look at this amazing sandwich of roast turkey, stuffing, and cranberry sauce. It works! So delicious. I'll never forget it: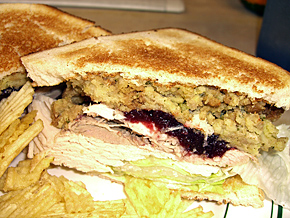 This strawberry shortcake may have been less refined than the masterpiece served me at Canyon Grill, back in Rising Fawn, Georgia (see report #25), but it contained no less love or intrinsic deliciousness: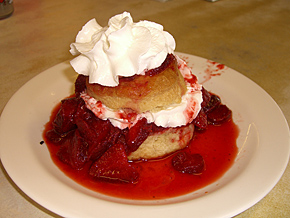 I missed johnnycakes by a mere 15 minutes. God …
+ + +
Flo's Clam Shack (4 Wave Avenue, Middletown, Rhode Island; 401-847-8141) is so archetypally clam-shacky that it's hard to believe this place is real, and not just some cynical evocation of genre.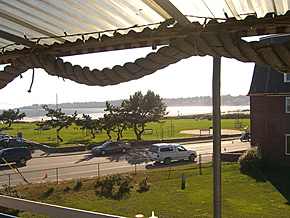 But let's talk about clam cakes.
Clam cakes aren't what you think. If the name makes you visualize crab cakes with clam instead of crab, you're way off. These are clearly Italian—like zeppole (fried dough) studded with vestigial bits of clam. They are crunchy/fluffy delicious (when served straight from the fryer, which is the only way to have them), and they live to be dunked in Rhode Island clam chowder (a grayish brine rife with diced potatoes that lives to have clam cakes dunked in it). Flo's is excellent for both clam cakes and chowder. And, as you can see in the photos, it's a fun place to hang out in.
+ + +
Champlin's Seafood (256 Great Island Road, Narragansett, Rhode Island; 401-783-3152) is also picturesque. It's a tourist magnet, hence the queue. They make excellent fried seafood and chowder. I wasn't reduced to a sobbing wreck or anything, but every bite tasted right on the money.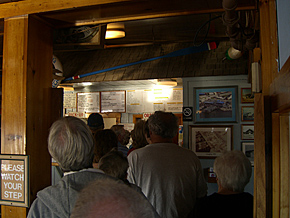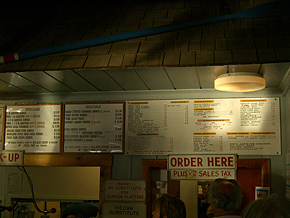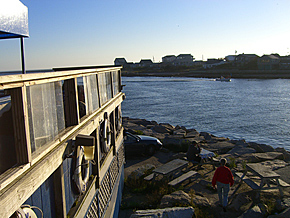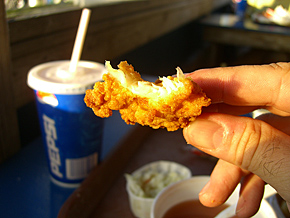 If you ever go here, pass on the ice cream stand situated beneath the restaurant. I had one lick and almost choked on an industrial-tasting chemical flavor. It was obviously an error, but still …
+ + +
Chopmist Charlie's (40 Narragansett Avenue, Jamestown, Rhode Island; 401-423-1020) is a homey sit-down restaurant run by a gregarious dude named Charlie. I got the broiled-seafood platter (for $22.95), which consisted of fresh scrod and sea scallops broiled with buttercrumb topping, along with a stuffie and two baked stuffed shrimp. The vegetables were actually the best thing. Stuffies (bread stuffing mixed with chopped clams and baked in clam shells) were fun, and scallops were just OK. I didn't love the apple crisp. This is a cool, convivial place, with the sort of bar where strangers talk. Their luxurious lobster bisque is real good.
+ + +
Gray's Ice Cream (16 East Road, Tiverton, Rhode Island; 401-624-4500) is killer great. Put it on your short list if you're ever around here. How many ice cream stands afford an opportunity to meet your cows?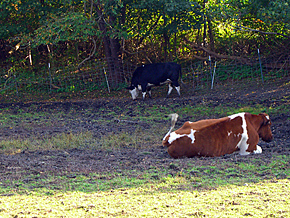 Gray's butterscotch ice cream is sensational, one of the best butterscotch items I've ever had. It's not a precious butterscotch hard-candy flavor; it's more rich butterscotch-puddingish flavor. It's a must-slurp … though only if you can tear yourself away from the ginger ice cream. It's full-flavored in its ginger flavor and reasonably potent, but doesn't quite crest into over-the-top heat.
Coffee cabinet (same as a shake or frappe) is also precision balanced. Not too sweet, not too ice creamy, not too milky, not too thin, not too thick … just dead dead-on. Wow.
+ + +
Hey, you wanna see some bad food?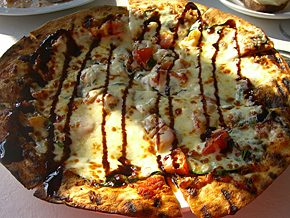 Looks good, no? But no. It's unredeemably empty soulless slop (from Sakonnet Fish Co., 657 Park Avenue, Portsmouth, Rhode Island; 401-683-1180).
I now mistrust my camera. If it makes bad food look good, then I can no longer rely on it to convey truth about things I love. Why is my camera, after many trustworthy weeks, suddenly lying? Is this covered by warranty?
"Dear Casio: My Casio Exilim EX-Z750 has turned dishonest …"
« Previous Post: Time Out for Pork«
»Next Post: One of America's Most Fascinating Undiscovered Restaurants »