North America Dispatch #48: Before and After Portsmouth, New Hampshire
I didn't have a chance to eat in Portsmouth itself. All chowconnaissance was executed on my way in and out of town. I've merged both legs into this one gigunda report.
Riding Toward Portsmouth …
I passed the worst-looking Italian bakery ever, in a soulless, antiseptic shopping strip. The following photo was taken through the windshield while driving, but it gives a general sense of the vibe: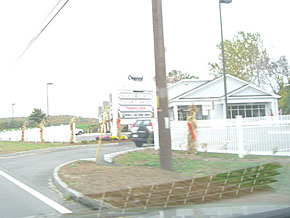 DeFusco & Son Italian Bakery (1211 Osgood St., North Andover, Massachusetts; 978-689-2055) was no more promising from the inside. This was exactly the blanded-out Italian bakery one would expect to find in the boonies near the Massachusetts/New Hampshire border. But still, my chow-dar kept buzzing, so I ordered a cannoli. It turned out to be top-drawer:
I also ordered perhaps the wrongest thing one can possibly order in a suburban Italian bakery: a cup of soup. Corn chowder.
Listen to the details in this podcast—MP3—and a postscript podcast—MP3—about this stellar chowder.
As bad as the great Italian bakery looked from the outside, David's Famous Chicken Pies (2 South Pleasant St., Bradford, Massachusetts; 978-521-7070), actually a merely-pretty-good place, looked fantastic. Appearances deceive!

Would you, could you resist a storefront like this?
I've damned via faint praise, which is unfair. Maybe this wasn't the poultry-pie paradise I'd hoped for as I screeched my car to a halt in a hail of gravel on the shoulder in front of David's Famous Chicken Pies, panting and sweating and sending flocks of birds scrambling into the air. But their pies are good … and honest.
Hear my brief pie-chomping analysis in this podcast: MP3.
Azzi's Bakery (87 Newbury St., Lawrence, Massachusetts; 978- 686-9043), as you can see in the photo below, advertises "Exquisite Lebanese Food." Who wouldn't want exquisite Lebanese food? Well, I'm writing this a couple of days later, and can't remember a thing about the place or anything I may have eaten there. Either they were closed … or they ain't all that exquisite.
Riding Out of Portsmouth …
First, we need to talk for a minute about the eerie New Hampshire State liquor stores. Listen to this podcast: MP3.
Here's their price list (prices are uniform in all NH liquor stores). They do carry some interesting items at bargain prices, if you're willing to brave the creepiness!
But after the booze comes breakfast. I liked the looks of Betty's Kitchen (164 Lafayette Road, Route 1, North Hampton, New Hampshire; 603-964-9870).
I didn't catch the official name of this extravagant French toast dish: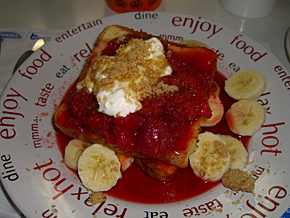 ... but it amounts to strawberry shortfrenchtoastcake. It may be French toast, but it is made with a strawberry shortcake mindset. The egginess of the bread is what strawberry shortcake always needed— though the resultant richness nearly left me giddy. Oh, and adding on all those wild blueberries and bananas just … Words fail.
These are real good peels on greasy, chunky home fries from waxy Maine potatoes. Click the photo and just stare at the large view for hours. I know I just did.
I'm not sure life gets much better than these two dishes. Sole downside (which I luckily managed to avoid via careful questioning of the staff): Though the breakfast menu makes frequent reference to hash in various contexts, it's not homemade hash.
OK, time for some failure!
I can't say that Li Yuen Chinese Cooking School and Carry Out (112C Lafayette Road, North Hampton, New Hampshire; 603-964-8181) looked good, exactly. But who could resist checking it out?
This flier explains their deal:
It's a clever concept that has gotten them plenty of press coverage: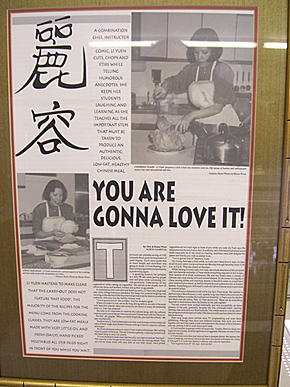 I ordered Szechuan twice-cooked pork, prepared by a young fellow who looked like a recent graduate of the school. He needs to go back for extra tutoring.
Each ingredient was painstakingly cut into precisely even trapezoids, and the result was unarguably colorful. But it was weirdly sweet, and the pork was neither twice-fried nor Szechuan—just some pork tossed around in a wok.
I loved this sign just down the street: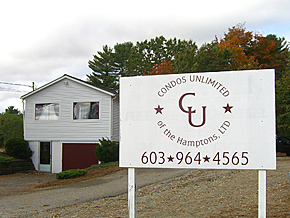 Copywriting gets less thoughtful as one approaches the Maine border.
Bob's Clam Hut (315 US Route 1, Kittery, Maine; 207-439-4919) is famous, but my clams were totally soggy and greasy. A disaster. The clams themselves were of good quality.
Look at this awesome "pizza bread" from Garofoli's Fine Foods (180 Lafayette Road, North Hampton, 603-964-7500):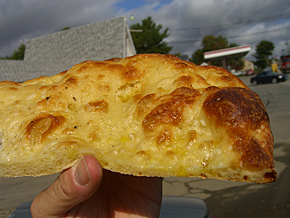 After driving a few miles happily munching pizza bread slightly more addictive than crack cocaine, I happened to flip it over and noticed the wonderfully burnty crispy troughs and bumps. I pulled over to capture its geography for your vicarious enjoyment:
They also make dynamite chocolate chip cookies, which disappeared too quickly to be photographed.
Lucia's Kitchen (1151 US Route 1, York, Maine; 207-363-5557) is one of those clichéd gourmet/catering stores, which are invariably overpriced and underwhelming. Their motto, "What's life without food?" doesn't offer much reassurance, and the $4.65 price tag was no bargain for this smidge of food—called something silly like "chicken mole pastitsio."
But I must admit, this place makes pretty good healthy foodie/precious Mexican-tinged stuff. The mole sauce was quite good, albeit with spicing tamed way down. Their chocolate chip cookies are nice. And they sell Madhouse Munchies potato chips and corn chips.
But $4.95/pound for cooked white rice?? In Maine???
+ + +
For tips on navigating from report to report (and a concise index of all reports), see the discussion on our CHOW Tour message board.
« Previous Post: One of America's Most Fascinating Undiscovered Restaurants«
»Next Post: Portland's Greek Pizza Sleeper, Plus Stealth Somali »