North America Dispatch #43: Time Machine Steakhouse and Killer Szechuan
Framingham, Massachusetts
While I've always viewed Framingham as a Brazilian wonderland, I've also been aware of other nationalities. Obviously there's wonderful Dakshin, and there also used to be a very good south Indian place right in the Framingham train station. But other ethnicities have caught my peripheral vision on previous visits, so while continuing to try to hit every Brazilian café in town (I've already strafed a bunch but haven't yet found greatness worth reporting), I've decided to challenge myself to find treasure that's neither Brazilian nor Indian.
Shortly after making that resolution, I blundered into venerable Ken's Steak House (95 Worcester Road, Framingham, Massachusetts; 508-875-4455). What's more evocative than a real old-fashioned steakhouse? Not the contemporary ilk, with self-conscious Rat Pack vibe and fancy meat-aging techniques. I mean the steakhouses you'd find in the 1960s and 1970s, with well-rounded menus and merely high, not extravagant, prices. The sort of place one took one's wife with her beehive hairdo for an anniversary dinner, back in the days when dining out was a special occasion.
You still find such places in burgs like Framingham. Ken's Steakhouse was clearly a big name in town once, but is reduced to huddling alongside overgrown Route 9, the sort of sprawly road that sucks the dignity from every venue along its glaring length.
Inside there's still lots of dignity left. Dark wood, padded bar, stained glass, couples dancing, wise-cracking career waiters and bartenders, dark wood—it's like attending a dining museum. The passage of time has revealed this, the most mainstream type of American eatery, to be as stylized and transportive as any Polynesian tiki restaurant or Sicilian red-sauce palace. I gleefully hoped to immerse in a patently ethnic dining experience, and was not disappointed.
Hear a podcast recorded in the lounge as I awaited my scallops wrapped in bacon, sipped my Shiraz, and contemplated the contrariness of choosing such a bland place in a town rife with jazzy wonderment (which itself is little known to most outsiders): MP3.
Hear a post-meal rundown (synopsis: everything was right on the money, and you can't find this sort of cuisine so easily anymore), as I head to a full dinner (I'd just had a few bites at Ken's) in a Szechuan restaurant I'd spotted up the block: MP3.
+ + +
Sichuan Gourmet (271 Worcester Road, Framingham, Massachusetts; 508-626-0248) looked good, but I didn't realize how good. This crummy photo was the best shot I could get of the place, from across the street (where I was ordering in yet another restaurant, but we'll get to that in a minute):


All alone, and raving into a voice recorder, I faced down three plates: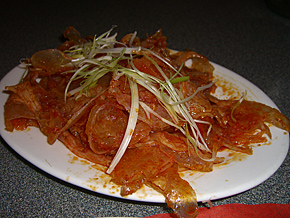 Beef tendon with spicy wonder sauce.

Dan dan noodles.

Cumin lamb (a seasonal special).
The food was phenomenal. The beef tendon was floatingly light (and subtly, soulfully spiced); the lamb was oh-so-tender and dosed with tons of fragrant cumin; dan dan noodles tasted hand-pulled, were properly oily and hysterical with chili, and hit notes I'd never before experienced with dan dan noodles. And I've had lots of really great dan dan noodles.
Listen to my screaming, gasping podcasts: MP3 and MP3.
I need to return to try more things. One problem with my streak is that I tend to order all the best dishes right away, so these may be the only three great dishes on the menu. But I doubt it.
Across the street I spotted a Shanghai restaurant called Uncle Cheung's (266 Worcester Road, Framingham, Massachusetts; 508-872-9200). Could lightning strike twice in this supposed Chinese-food desert? Likely not, but I always like to give serendipity a shot, so I ordered, takeout (as I was stuffed), Shanghai soup dumplings plus the ultimate Shanghai soul food: soybeans with minced pork and bean curd threads. Nice people, authentic menu, no pandering, more or less "correct" cooking, but just no flair at all. My delicious-o-meter flatlined.
+ + +
Earlier in the day, between the tiniest chowconnaissance bites at a zillion Brazilian holes-in-walls, I managed to do something I'd always dreamed of: I ordered one of the wacky hamburgers at Magic Oven.
The Magic Burger, for a mere $5.75, fills a small grocery bag to bursting with a burger with cheese, bacon, egg, corn, ham, chicken, pineapple, lettuce, tomato, and a blizzard of potato sticks. How does it taste? Really really good. Obviously, it's something you need to be in the mood for. I'd suggest, as a prerequisite, two weeks starving in a cave.
« Previous Post: What You Call Sprawl, I Call Heaven«
»Next Post: Brazilian Buffetification (but Great Bacon) »