North America Dispatch #57: 36 Sublime Hours in Newfoundland
St. John's, Newfoundland
First of all, it's pronounced "New-fund-LAND." The standard mnemonic offered by locals is, "You must underSTAND we're in NewfoundLAND!" One cannot overstate the importance of not merely stressing that last syllable, but of more or less clobbering it. The key to acceptance by locals is a good, hearty bellowing of that third syllable. I'm not kidding.
These 36 hours were the most intense of the entire tour. The following is a near-operatic timeline of my short but highly charged visit to St. John's, NewfoundLAND.
+ + +
Sunday, 2 p.m.: In from the Airport
I'm stumbling hungrily around the outskirts of St. John. Things are quiet; the season's clearly died down. Plus it's a Sunday. Slim pickings.
+ + +
3 p.m.: Arrive at the Ship Inn
The Ship Inn (265 Duckworth Street, St. John's, Newfoundland; 709-753-3870) is deserted except for bartender Dave. I really need lunch, but the kitchen's closed. Not wanting to be rude, I sit down for a quick beer.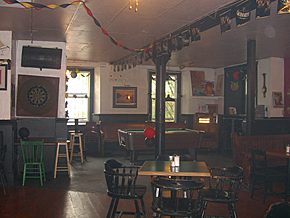 After my beer and an interesting chat with Dave—conflating like brush-fire to other patrons who've gradually wandered in—I feel compelled to try my first screech, the proud local libation of overproofed, underaged rum. Dave serves it to me with Coke.
I love it. Deeply. And even though I'm not drunk yet, I find myself liking everyone in this bar as much as the screech. Kind, smart, funny people, all.
I drink lots more screech.



Screech on the rocks.
+ + +
7 p.m.: In Search of Jigs Dinner
Around dinnertime, conversation at the Ship Inn turns to food, and my new friends decide I need to try a real jigs dinner (vegetables, salt beef, and dumplings or pudding). There's much argument as to whether someone ought to bring me home and cook for me, or whether I should be taken to a restauarant (and if so, which one). Finally it's decided that I'll be taken to a place called Big R.
As always, people don't know that I'm writing about the trip. This is simply how things go in St. John's. Perhaps you're planning your trip right now in another browser window. That's a smart move.
As we leave the bar, Dave instructs us to be sure to ask when, exactly, the jigs dinner was made.
I pile into a car with people I didn't know until two hours ago, and we drive miles to a homely diner-ish place right out of 1964.
Following Dave's advice (Dave is highly respected), we ask the staff at Big R (201 Blackmarsh Road, St. John's, Newfoundland; 709-722-6549) when the jigs dinner was made. The answer: Friday. It's Sunday. We pile back into the car and drive on. I am astonished that they admitted it.
+ + +
8 p.m.: Irving Restaurant
After miles of driving, we arrive at Irving Restaurant (65 Clyde Avenue, Mount Pearl, Newfoundland; 709-745-3403) ... which has just run out of jigs dinner. My companions are disconsolate. I, by contrast, am jubilant. I'm dining not just in a gas station, but in the most ambitious gas station eatery ever.

Notice the dramatic restaurant windows in back.
This place has serious pace, the waitresses are super-nice, and I'm ready for cod tongues, my backup craving, served with mashed potatoes in brown gravy.
I've tried cod tongues once in Toronto, but here they come with scrunchions (little pieces of fried rendered pork fat, akin to cracklings). Happily I scrunch, devouring my lovably trashy dish.
We also got some other homely, homey, comforting items, such as split pea soup, dosed with honey and served with touton (pronounced TOW-tun)—fried dough with molasses.
Check out this moundlike turkey dinner with dry stuffing (apparently from a bag of stuffing mix to which no liquid's been added) and canned vegetables: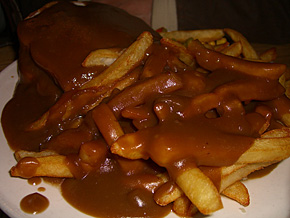 The same plate worked down a bit.



... and worked down a bit more (I was humming "Climb Ev'ry Mountain," from The Sound of Music).
For dessert, "fruit of the woods" pie with coffee and wisecracks traded with the kind-hearted, quick-witted waitresses.
You may have heard that in really remote places, animals have no fear of humans. NewfoundLAND feels somehow like that. People talk substantially to each other here. They joke with strangers, even go off-script with easy aplomb. No wonder NewfoundLANDers have acquired a reputation for being "eccentric." It's because they have no concept of canned conversation, a lapse that creates fear and confusion for the dronelike. They're alive. You must go this far north to find thawed humanity.
+ + +
10 p.m. to midnight: Barhopping
We hit the famous nightlife nexus of George Street, with its legions of characterful little pubs, which still maintain a faint whiff of the recently departed tourists in the air. A few stragglers come into one pub, demanding to "kiss the puffin," which is some contrived touristic shtick. The weary bartender dutifully tends to them.
+ + +
Monday, midnight to 1 a.m.: Back to the Ship Inn
I confess to Dave at the Ship Inn that I'd strayed, and beg forgiveness, promising to never drink anywhere else ever again. Dave's actually off work at this point, drinking at the bar. His colleague converses eruditely about education theory, and avows her aversion to bartendering, her job for many years. Everyone in St. John's is highly discontent, which is, of course, a downside of aliveness. If I lived in St. John's, I can't imagine how I'd ever feel discontent (aside from the Chinese food craving).
+ + +
1 a.m. to 10 a.m.: Screech Sleep
Rough …
+ + +
10:30 a.m.: Cora's (chain with a view)
Cora's is a (small) chain, but it's a high-quality one. And even within its overstylized decor, there's local color to spare. What a view!
I order a breakfast of competent poached eggs, intense bacon, ingenuous home fries, and sort of rubbery fruity pancake things. Plus deeply profound toast. I sample only a bite of each thing, preserving appetite for more local pleasures.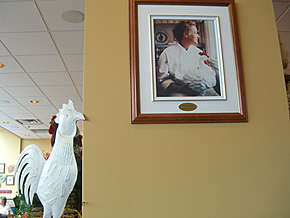 This is Cora, the founder (on the right).
+ + +
11:30 a.m.: Auntie Crae's
Auntie Crae's is the big local gourmet shop and bakery, though, being in NewfoundLAND, it's got none of the usual pretension. I'm mostly looking for partridge berry pie. They have none today, but I find other interesting things, including an intriguing-looking brand of rooibos tea, The Gathering Place. For more on rooibos, see report #53.
+ + +
12:30 p.m.: The Gypsy Tea Room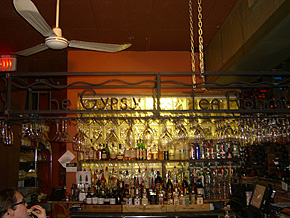 The Gypsy Tea Room (195 Water Street, St. John's, Newfoundland; 709-739-4766) is just another romantic Gypsy restaurant where Serbians serve Mediteranean cuisine made from Canadian Maritime ingredients. Only this one's killer. The shark bites, in an indescribable and surprisingly spicy sauce, are worlds better than Bobby Darin ever imagined. I scarf more than is prudent, despite the long day of eating ahead of me.
Yet I cannot leave this wonderful place without trying something else. "Omakase!" I holler at the chef, who hasn't the slightest freaking idea what I mean (thankfully, it seems not to be a curse in Serbian). After explanation, he decides to make me escargot in cream sauce.
It's not usually my kind of dish, but this version is clenchingly fantastic. At my request, the nice waiter turns off the damned Gypsy Kings and puts on some traditional Serbian oro music. I'd like to linger but must move on. It's been, after all, 12 hours since my last screech.
Here's the Gypsy Tea Room's interesting menu: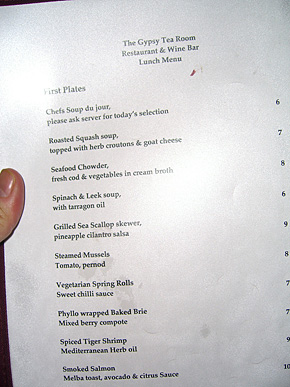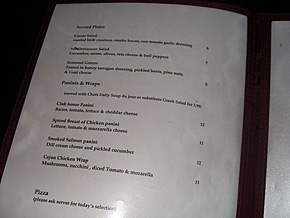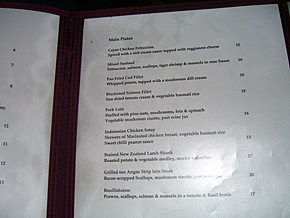 + + +
1:30 p.m.: The Ship Inn Yet Again
I'm back at Ship inn, where I'd forgotten that Dave had promised to arrange a plate of cod tongues for me. A large plate.
I'm full, but after one bite I melt into primordial hunger. These cod tongues are epochs more advanced than the ones last night. They are probably the best thing I've had on the tour. In fact, they might be the best fried thing I've ever eaten. The cook is a quiet magician. I offer you, below, many views of the tongues plus their affiliated scrunchions (which go beautifully—and alliteratively!—with screech). You must click on each to expand, and you must stare at each photo. You must book your plane tickets. You must quit your job. You must swear to never eat anywhere but the Ship Inn for the rest of your life.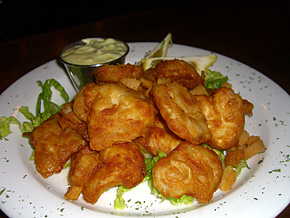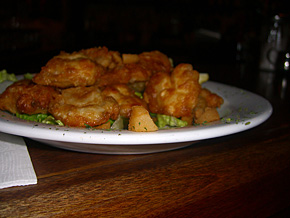 + + +
2:30 p.m.: Still at the Ship Inn
I've finished my dish and am as full as I've ever been in my life. But I'm also desperately, pantingly, heart-shatteringly in love, and, like a chicken staring up at a rainstorm until drowned, I can't conceive of not eating more. The cook serves someone chowder, and I'm jealous enough to strike the recipient dead with a bar stool. I conquer my violent impulse and ask for a cup. Expecting grandeur, I'm nonetheless unprepared. Angels sing, lights shine. Words fail. Just … look.
It's not much of a photo, I know. You'll need to meditate on it for a few minutes. But it's all there. I regret that I can't describe this chowder. Words fail, and my feelings are just too … personal.
+ + +
3:30 to 5 p.m.: ... And Still at Ship Inn
The blessed cook has left, thank goodness, and I'm binge drinking to steady my nerves.
The Ship Inn often has good live bands, but, just my luck, tonight's "Stitch 'n Bitch Night."
+ + +
6 p.m.: International Flavours
Having heard an irresistible tip about an Indian restaurant in a private house in a residential neighborhood, I'm climbing intently (and somewhat totteringly) up the hills outside of town, investing a full hour in the search, finally locating International Flavours (4 Quidi Vidi Road, St. John's, Newfoundland; 709-738-4636) at the intersection of Signal Hill Road, Quidi Vidi Road, and Duckworth (yes, street names here are awesome). The restaurant is, alas, closed on Mondays.
+ + +
6:30 p.m.: Arty Photography
Time out to shoot moody photos of downtown and the harbor.
+ + +
7:30 p.m.: Bianca's
Dave had recommended high-end Bianca's (171 Water Street, St. John's, Newfoundland; 709-726-9016), famous for fillet of caribou, a meat I've never tried. I'm certainly not hungry, but I put on my food critic hat (after taking off my alcoholic hat) and head over to Bianca's for a professional few bites in spite of my lingering painful fullness.
The stuck-up waitress in her little black designer dress seems strangely anachronistic. What with the food, the alcohol, and the disorientation of thousands of miles of traveling, I think for a second that I've been transported to Tribeca. She's very on-script. It's killing my buzz.
The food's deft, dramatically plated, expensive. As with virtually all upscale places I've visited on this trip, the kitchen affirms its location via regional ingredients and refined shout-outs to tradition. But there's pretension here, and I just can't forgive pretension in NewfoundLAND.
+ + +
8:30 p.m. to ???: Blurry Drinking and Good-byes
Can't remember much, aside from emotional good-byes at the Ship Inn. I've been in town less than 36 hours.
The next morning I fly out early. But I'll be back. Halifax native and radio star Heidi Petracek, who hipped me to the Ship Inn and Gypsy Tea Room, predicted that if I liked Halifax, I'd flip over NewfoundLAND. And she was right.
+ + +
The Chow Not Eaten: St. John's Leftovers
Places I didn't get to:
On Bell Island, the only fish and chips on the island, near the ferry.
The Battery Hotel (100 Signal Hill Road, 709-576-0040) for traditional brunch.
Michel's Bakery (799 Water Street, 709-579-0670).
... and, not chow, but the essential stop for all tunely needs: Fred's Music Store (198 Duckworth Street).
« Previous Post: Peanut Butter Burgers, French Fry Titans, and Bye-Bye "Streak"«
»Next Post: Montreal: The Chowhound's Promised Land »