North America Dispatch #4: Catskills, Cupcakes, and 'Cuing
Crushing disappointment: I'd been looking forward to breakfast at Shandaken Inn (One Lower Golf Course Road, Shandaken, New York; 845-688-2622), which locals speak of in rapturous tones. Insanely delicious omelets. Little touches. Bucolic, woodsy idyll.
But I was confronted by that bane of chowhounds everywhere: a sign reading "Closed for Private Party." If I ruled the world, private parties would not be allowed to render entire restaurants inaccessible to their loving and loyal fans. It's so terribly unfair.
I did poke my head in, and it's a charismatic, informal country place, sort of like the inn one would imagine at Walden. They rent rooms, which I hear are charming and reasonable. There's a nice splashy pool out in the grassy back area. I must return.
As I headed out of town, I spotted a hand-scribbled sign for baked goods and screeched into a side-street in a hail of gravel. It was there that I made my first real find of the trip. An elderly woman named Yvonne sits immobile in a hut at the intersection of Route 28 and Ernst Road in Phoenicia, New York (845-688-7340) amid a wide range of knickknacks. (I get the sense that Yvonne is in a more or less perpetual state of garage sale.) I may have been the first person to stop in hours—days? weeks?—and she spun into action, peppering me with homilies, culinary theories, and alternative cupcake-flavor options, her bright, youthful eyes flashing all the while.
I chose a butterscotch cheesecake cupcake and answered "yes" to fresh whipped cream. Yvonne drew from the refrigerator an ancient, heavyweight pastry bag, which emitted the thickest, most luxurious-looking cream imaginable. If you told me Yvonne's refrigerator was actually a portal to Vienna circa 1870, I'd be inclined to believe you. The flavor of both whipped cream and cupcake was astounding, and a brownie was top-notch and full of personality, as well. (Note: Yvonne is really into moistness; the cheesecake is nearly liquid and even the brownies are runny. Go with it; it's her aesthetic.) Foolishly scarfing the thing as I drove off, as one does with trifles bought from a roadside stand, I realized I was wrong—blasphemously wrong. I pulled over, got out, and sat, with impeccable posture, on the rear bumper, and gave this amazing pastry the full attention and respect it deserved. Do not pass within 35 miles without stopping at Yvonne's.
Yvonne clearly comes with an interesting story (I just Googled a clue; see this 1986 article from The New York Times, which says she once owned a restaurant), and she was clearly eager to recount it to me, but I'll have to wait for another time to hear it, because I was late to meet friends at …
The Hudson Valley Ribfest
Peekskill, New York

Hear my three podcasts:

MP3

file
'Cue Geek Spiel
I could listen to 'cue geeks go on all day about their craft. Here, I'm chatting with a fellow from Tennessee who lives up north and enters barbecue competitions on weekends to reconnect with his roots. See photo, below.
Photos of Commercial Vendors
Photos of Amateur Competitors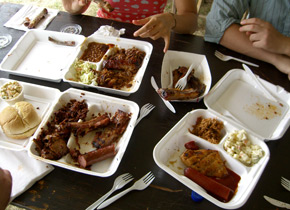 4H Milkshake Tent
Master chowhound Barry Strugatz always swears by milkshakes made by 4-H Club girls at county fairs. So I eagerly made my way to the 4-H milkshake window, where I spied bored-looking girls desultorily scooping cheap ice cream and squirting cheap generic syrups from big plastic containers. The shakes cost something like $4 each, and the whole thing showed no promise at all. But all the quality was injected during the final blending stage, which was managed by the only perky, cheerful girl in the entire squadron. On request, she recited the 4-H pledge. I forget what all the Hs stand for, but one of them is surely "Helluva milk shake"—a perfect, old-school rendition.
Strictly Local Legends
Mendham, New Jersey
New Jersey is chock-full of local food legends—places to eat that are widely known and loved within their areas, but never written about or patronized by outsiders. I find it irresistible to try to uncover as many of these as possible.
My cousins Bob and Cindy have for years regaled me with tales of Sammy's Ye Old Cider Mill (353 Mendham Road West [Route 24], Mendham, New Jersey, 973-543-7675), a super-quirky, super-expensive local steakhouse established in 1933 and still run by the same family. They were certain I'd get a kick out of this extraordinarily characterful place, but, as is often the case with local legends, they were unsure whether the place stacks up in terms of pure deliciousness.
MP3

file
Hear Bob and Cindy's pre-meal briefing.
Sammy's was actually startlingly good. The house salad (iceberg hued deep brown from way too much vinegar) was as off-putting as I'd been warned, but everything else rocked. Lobster was primo quality and cooked by a kitchen that really understands lobster; lamb chops were humongous, charry, and juicy; and superbly fried shrimp were doused with perfectly balanced lemon garlic sauce for scampi—a rendition I'll forever hanker for. Sammy's crunchy, slightly overcooked shoestring fries were fun. There's great stuff to eat here, and you unquestionably walk out the door feeling like you've been somewhere.
MP3

file
Hear Bob and Cindy's post-meal appraisal.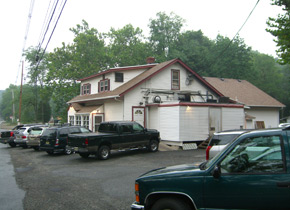 « Previous Post: In Which Both Jim's Credo and Upstate New York Are Unveiled«
»Next Post: New Jersey Shows Its Cards »