North America Dispatch #16: The Best Sticky Buns Ever (and 'Cue in a Citgo)
Boone, North Carolina
This northwest corner isn't the chowiest part of N.C., but two terrific places are quite near Maverick Farms.
Citgo Market, a.k.a. Foscoe Country Corner (8937 Highway 105 South, Boone, North Carolina; 828-963-6409), makes the best barbecue (hickory-smoked!) in this part of the state (the mountains are not known for good barbecue). The meat itself is very well smoked, but most North Carolinians would quibble with the sauce, which is too sweet.
This joint makes pretty good cheeseburgers too.
MoonPies and RC Cola are a classic combination, sort of sweetness squared.
Johnson's Bakery, a.k.a Kersh's Old World Bakery (106-1 Clubhouse Drive, Highway 105, Foscoe, North Carolina; 828-963-5668), makes these:
... the best sticky buns I've ever eaten
Excellent scone and brownie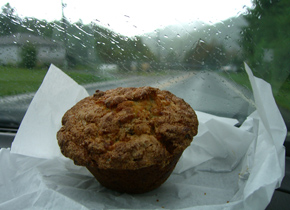 Real good muffins (here we see their wistful side, headin' down that lonesome highway …)
I made my way down to Charlotte, where I ate some fairly pedestrian fried chicken in a few places but went ga-ga over the lardy-crusted coconut custard pie at United House of Prayer for All People (2321 Beatties Ford Road, Charlotte, North Carolina; 704-394-3884). The measure of its quality can be gauged by my failure to shoot the photo before having scarfed most of it.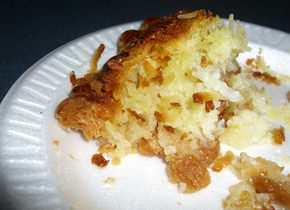 As at all United House of Prayer cafeterias, quality is quite variable, according to which church ladies cook on a given day.
Shelby, near Charlotte, is a mecca for barbecue, and Bridge's Barbecue Lodge (2000 E. Dixon Boulevard/Highway 74, Shelby, North Carolina; 704-482-8567) is a local legend. I found their 'cue dismayingly blah. Perhaps I arrived at the wrong time of day. Pretty good hush puppies, though.
Tomorrow I head east into prime barbecue territory, and I'm really hoping for some 'cue that blows my doors off.
« Previous Post: Pretzel/Potato Chip Tasting, and Jim Meets Chickens«
»Next Post: Let the Barbecue Begin »