North America Dispatch #59: A Meal in Pitch Blackness
Montreal
In less than 24 hours, we'd made a complete sty of our room at Springhill Suites: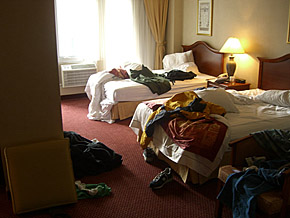 I got stuck with this sofa bed.
I thought I'd read somewhere that this hotel had an 80-foot water slide. This was a huge draw for all of us, particularly Joel, who had his heart set on splashy fun. With great eagerness and extraordinarily unattractive swimsuits, we descended to the hell that is the Springhill Suites swimming area—the smallest, meanest pool you've ever seen, situated in a moldering basement. We strode back to the front desk, hoping to learn where the REAL pool was, and the clerk informed us that there was only one slideless pool, adding (I swear I'm not making this up), "We are actually well known for having zee smallest swimming pool in Montreal."
Joel took the news especially hard. But as we dejectedly trudged back downstairs to try to make the best of the situation, he had an epiphany: He'd make his own water slide: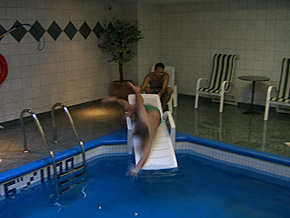 See the exciting video footage, wherein Joel demonstrates the resourcefulness and creativity that make him a busy Hollywood film editor: Movie file.
OK, let's do the food.
+ + +
First we hit Jean-Talon Market, which has a very European flavor, with vendors set up in a central area ringed by food shops and little restaurants.
The produce is amazing …
... but we were conned by an unscrupulous citrus dealer, who proffered superb tangerine samples and sold us what turned out to be tough, awful fruit. We took it in stride, figuring three rubes from New York oughtn't expect to casually waltz into a serious market like this.
We scored some fantastic, richly luscious goat's-milk yogurt (L' Avalanche) at La Fromagerie Hamel (220 Jean-Talon Street East, Montreal; 514-272-1161), a stupendously stocked, insanely bustling cheese shop adjoining the market:
An Italian deli around the market makes an impressive variety of tasty rice balls:
Also adjoining Jean-Talon is a branch of my favorite local bakery, Boulangerie Première Moisson (Marché Jean-Talon, 7075 rue Casgrain, Montreal, Quebec; 514-270-3701). This is the place I raved about in my last report. They must drug their stuff; there's no other explanation for the scarily irresistible attraction.
While Première Moisson's bread is consistently jaw-dropping, pastries can be hit or miss. Last time, I fell deeply in love with their maple croissants, but this is the wrong season for maple. Taking the only reasonable tack, I compulsively bought one of everything in sight.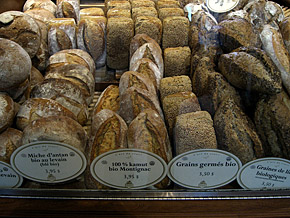 That buche bio is my favorite Première Moisson loaf, followed closely by their walnut levain.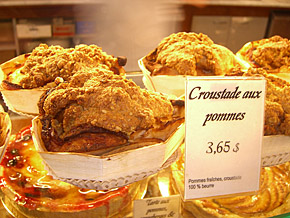 "100% beurre" is right. These apple pastries are way over the top—and stunningly delicious.


Barry worked himself into a state over the Wall o' Jam.


Just a few of those amazing jars.


One shouldn't by any means overlook the humble plain rolls. Here are two views:
Extremely serious croissants (again, two views):
Obverse and reverse of the devastating long cheesy roll things: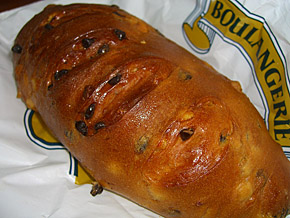 Orange chocolate bread, a special loaf. Gawd.


Almond croissant—so fluffy, so tender.


Some other errant almondy butter bomb.


One could gaze at this expressionistically crunchy muffin top for hours.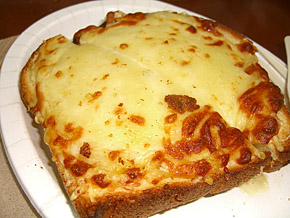 Croque Monsieur—Croque Madame? Croque Mon Ami? I don't know. Regardless of who's being croqued here, the result is nothing less than creamy, crunchy, yeasty, cheesy wonderment.


Lots of fine frothy coffee products aided us through our grueling chowconnaissance.
Note that owners Josée Fiset and Éric Blais have a (French-only) recipe book, called Pain.
+ + +
I stabbed another mortal wound into my streak by getting all excited about Champ de l'Olivier (162 Jean-Talon, Montreal; 514-495-4114), a great-looking Tunisian restaurant that's yet another venue near Jean-Talon Market.
Take a look at the photos. Can you blame me for expecting greatness?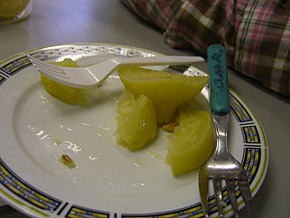 But no. Every single item flatlined my deliciometer. Nothin' there. Alas.
+ + +
Several hours later, we set out with much excitement for O.Noir Restaurant (1631 Ste-Catherine West, Montreal; 514-937-9727), where you dine in pitch darkness, served by blind waiters. This set-up is actually a burgeoning international trend, the idea being that you focus more intently on your food. Like any chowhound actually needs that.
Appetizers.



Entrées.


Desserts.


Juggling a recorder with one hand (trying to cover the bright display with my palm) while eating with the other hand in pitch darkness was a challenge, so the sound quality's bumpy.
MP3: We peruse the menu in the lighted foyer, we're led into the restaurant clutching each other's shoulders, and my recorder nearly gets confiscated.
MP3: Fervidly negotiating the logistical issues involved in sharing three dishes in pitch blackness.
MP3: Kibbitzing in the darkness.
MP3: "I just found like a whole new area of mashed potatoes I didn't know existed."
MP3: For some inexplicable reason, complete strangers around the dining room found themselves spontaneously performing "Dock of the Bay."
MP3: We are (literally) shown the exit.
Conclusion: We weren't sure we'd experienced our food any more vividly, but, shtick or no, the cooking's delicious. And, heck, since dining is about experiencing other points of view, I'd be up for eating blind once in a while. Darkness is the new Chinese!
+ + +
Dinner at O.Noir had been early, so we were ready to hit Globe Restaurant (3455 Boulevard St. Laurent, Montreal; 514-284-3823) late for drinks and some raw shellfish. Do me a favor and click on their website for just a second to check out the music and Flash animation, which will totally give you the vibe.
The ultimate challenge: Can even a megatrendy restaurant with valet parking, gorgeous waitresses, and sceney dancing after midnight serve delicious food in (and only in) the magical city of Montreal?
Par for the course in such places, their expensive ($85) raw plate is mightily pushed. My cynical friends and I assumed it was a sucker order, but, just for science, we sprang for it.
The sucker shellfish plate, in what seemed a patent hell pit of noxiously poor eating ("The food's, like, so beside the point …") was rockingly good! And the raw-bar chef, who'd chatted amiably with us about oysters while we awaited a table, sent along, gratis, his proud, and very delicious, concoction of rock shrimp, lemon, and spicy mayo. And the hyper-comely waitress—who could act sullenly stuck up and still pull down 40 percent tips—was extraordinarily friendly and sincere. Man, how I love Montreal …
« Previous Post: Montreal: The Chowhound's Promised Land«
»Next Post: Refreshed Troops Wallow in French Fries »