North America Dispatch #19: Fried Chicken, Frozen Custard, and Barbecue
Eastern-ish North Carolina

As discussed in the podcast I recorded en route (MP3 file), I had lunch at the Farmer's Market Restaurant (Raleigh Farmer's Market, 1240 Farmer's Market Drive, Raleigh, North Carolina; 919-833-7973), a very well-known spot that had piqued my interest since I read about it in the book Southern Belly. I'll let the photos do the talking: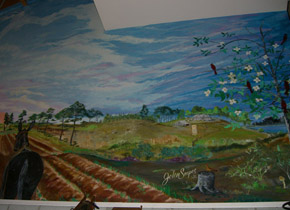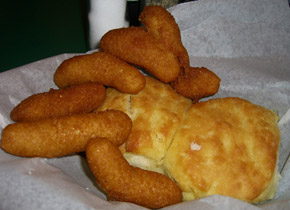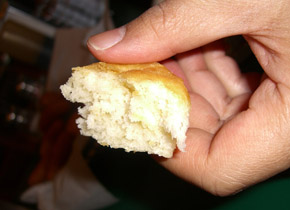 The South is a place where a grown-up can order chocolate milk without compunction.

Experience the thrill of arriving dishes via PlateCam (be sure you're seated; the profusion of amazing-looking dishes could make strong men dizzy!): Movie file
Main conclusion … MAN that fried chicken's great. I don't need to describe it to you because it tastes exactly like it looks (click the photos for the full-sized food-porn view).


The Raleigh Farmer's Market itself is very laid-back, and quality is high.
Cornhounds vie for position to spy the best ears.

The ice cream tastes as simple, homespun, and irresistible as the sign.

Could you imagine a more transportive array? I hope Atkinson's stays in business another 250 years.

Blenheim, a super-potent ginger ale.

The cute blonde woman who sat next to me at the counter of the Farmer's Market Restaurant urged me to try Goodberry's Frozen Custard (1146 Kildaire Farm Road, Cary, North Carolina; 919-467-2386). I checked it out, and it was honest-to-goodness real frozen custard, not just glorified soft-serve. Wow!
Experience the extruding suspense of CustardCam: Movie file
Hear the exultant slurping in Podcast 2: MP3 file
The great New Jersey frozen custard mentioned in the podcast is at CustardThing (100 North Washington Avenue, Bergenfield, New Jersey; 201-439-1818).


Wilber's (4172 U.S. 70, East Goldsboro, North Carolina; 919-778-5218) makes great barbecue. It has vastly more depth of flavor and complexity than what I'd previously derided as "sloppy Joe" barbecue, in which the pork is mushy and one-dimensional. The meat seems hand-sliced but isn't quite the textural marvel of Allen & Son's. It's also not as moist as Allen & Son's —though it's by no means dry. Saucing is very light.
BBQ chicken is moist and richly flavorful but tastes of no smoke at all. The rich yellow sauce is redolent of chicken fat and manages to taste sharp without any chili pepper.
Nice surprise —the cherry pie was made with sour cherries. Unfortunately, they microwaved it. Why does everyone down here nuke pie? And, for that matter, does anyone in the South still make real mashed potatoes?
« Previous Post: Great 'Cue with Bob Garner, Two Pillars of Mexican Cooking, and a Deafening Honduran Pool Hall«
»Next Post: Great Beer, So-So Antelope, and the ParkingHounds' Big Debut »