North America Dispatch #20: Great Beer, So-So Antelope, and the ParkingHounds' Big Debut
Winston-Salem, North Carolina

I'd strafed Winston-Salem while heading eastward from the mountains a few days earlier (see installment #17), just hitting the town's southern fringe. Now, heading west toward Tennessee, I stayed downtown to plumb what I'd heard described as a chowhounding desert.
Needless to say, top priority was another visit to Family Diner (7911 NC Highway 68 N, Stokesdale, North Carolina; 336-643-8853), about a half-hour from Winston-Salem. It wasn't quite as transcendent this time, and I'm not sure if it's because I ordered other stuff (i.e., chicken and dumplings is their sole masterpiece), or because a different chef (they have many) was on duty. I still loved it, though. Meatloaf was full of personality, turnip greens were as soulful as ever, and they managed to cram more flavor into lowly canned green beans than one would imagine possible. Ribs were baked (not smoked) but extremely tender—as you'd expect in this bastion of texturelessness. Fried okra had sat around for a while, but cornbread was fresher this time, and it packed depths of nuance beneath its ordinary exterior. Family Diner is all about the hidden depths of nuance.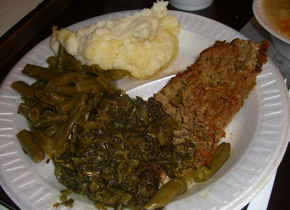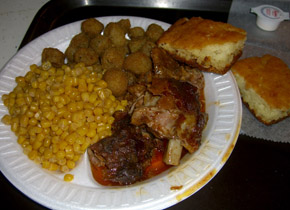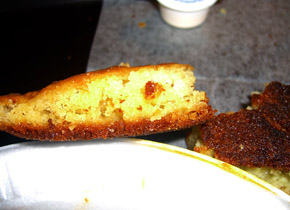 I'm still trying to figure this place out. The servers sit around swapping bawdy jokes, and the restaurant is open all night on weekends … yet there's that hovering "No Profanity" sign, which I find incredibly intimidating (not to mention impossible to obey, given the God's-name-in-vain-invoking quality of much of the food). Perhaps the sign is nothing more than a campy goof, and I'm just not hip enough to get the joke. But gosh darn it to heck, I'd never dare test the issue.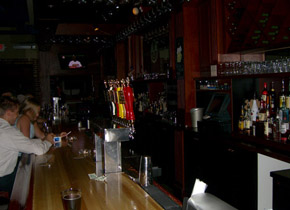 Foothills Brewing (638 West Fourth Street, Winston-Salem, North Carolina; 336-777-3348) is a standard brewpub, with a variable lineup of beers, a number of them poorly crafted. Best are the lighter lager styles. Salem Gold—what beer geeks refer to as a "girlfriend beer"—has a nice snap and assertive bitterness. Torch Pils is drinkable, as well, with an admirably long finish. But the IPA, ESP, and Stout were flatline beers, made with little skill or care.
Double IPA is their featured special brew, with no free samples allowed. Dismayed by the rest of the lineup, I nearly skipped it. Thank goodness I didn't. This is a great beer, with an aroma of stone fruit and mango, full body, and a complex, beautiful flavor. The sweetness perfectly counterbalances the searing bitterness and stratospheric alcohol level.
Here's what blew my mind: This double IPA is actually one of Foothills' most popular beers. Given that other brewpubs despair of selling the masses on anything but the lightest and most insipid styles, it's dumbfounding that a beer this heavy, this flavorful, this weird, this … unbeery could be a hit in a football town with no craft-beer culture at all.
The food menu is equally surprising. Among all the usual pub-fare suspects were a number of game meats.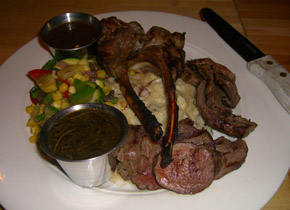 I found myself enjoying a plate of boar chops (12 o'clock in the photo), sliced antelope (3 o'clock), and venison (6 o'clock). None were prepared with great skill (potatoes and vegetables were downright icky), but it was certainly a more interesting dinner than I'd expected. The boar chops were more lamby than porcine, and not nearly as intense as the wild boar I had once in Spain. Antelope was my favorite, rich but not terribly gamey. Venison is more familiar, but this wasn't a very good example. Not bad either, though.
Foothills had been recommended by the parking guys at my hotel, whom I invited for a late-night beer and who turned out to be so bright, articulate, and insightful that someone just has to give them their own radio show. Take it away, Daniel and Jonathan:
MP3 file: 1. Tales of eating antelope, aardvark, monkey brains, elephant, and rhinoceros.
MP3 file: 2. Exotic eating in the South (possum, squirrel, asiago bagels, etc.).
MP3 file: 3. Chitlins and dumplings (and the mysterious "sea loaf").
MP3 file: 4. Daniel's chow faves in St. Louis (tips to file away!).
MP3 file: 5. Jonathan's trip to Alaska.
MP3 file: 6. What's "hot-water cornbread"? And why do you never see spoonbread on menus in NC? Mystery solved!
MP3 file: 7. Daniel's intriguing and unusual recipe for garlic soup.
MP3 file: 8. Your quest, son, is to find catfish in Tennessee.


There's not much great barbecue right here, as Lexington, North Carolina, is such a mecca so nearby (in fact, the best places in Winston-Salem all advertise themselves as "Lexington Barbecue," much like pizzerias anywhere near New Haven tend to market their product as "New Haven-Style").
The purist choice for those put off by the kooky sauces at Hill's and at Short Sugar's (see installment #17) is Little Richard's Lexington BBQ (best location: 4885 Country Club Road, Winston-Salem, North Carolina; 336-760-3457). Daniel and Jonathan urged me there.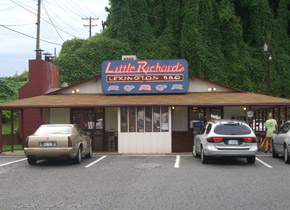 It's unexceptional, but only in the sense that it didn't awe me after I had visited the towering giants of North Carolina barbecuedom. If Little Richard's were to be magically transported to my block in Queens, New York, I'd swoon with joy.
The picture tells the story: nice coarse by-hand chop, and that's outside brown you're seeing mixed in there, son. Which leads to the next photo:
Check out the notation "some osb." God, I love that. I told the waitress I wanted "some outside brown," a subtle statement rife with meaning. And she faithfully transmitted my wishes. Sure enough, my plate was mostly regular barbecue, but studded with some brown crunchy highlights. Nice.
The hush puppies were real good. But the hush puppies are always real good. It's like beer in Belgium: Grandeur is assumed.
That bottom sign's a hoot.
Daniel and Jonathan also like Jimmy the Greek's (2806 University Parkway, Winston-Salem, North Carolina; 336-722-0184) for Southern breakfast. My order was decent. Those guys insisted you can find hot-water cornbread (a.k.a. spoonbread) there, but I'm dubious.
A friend said, in an earlier podcast, that there were no good late-night music clubs in Winston-Salem. Nope, there's a real good one, with a pretty good beer list, too. RubberSoul Bar (1148 Burke Street, Winston-Salem, North Carolina; 336-721-0570) is a fun joint for listening to live groups. I caught a great local party band called Solos, with a NYC-caliber bassist and frontmen who sing and rap with equal aplomb.
« Previous Post: Fried Chicken, Frozen Custard, and Barbecue«
»Next Post: Biltmore Blueblood Blues (Plus Barbecue) »