North America Dispatch #56: Peanut Butter Burgers, French Fry Titans, and Bye-Bye "Streak"
Halifax, Nova Scotia
I'm staying at the Halifax Marriott Harbourfront, a terrific and underpriced new hotel with surprisingly good room service and a fun, lively bar. Best of all, it's right on the waterfront, an irresistible part of Halifax. One can amble for hours among pleasant shops along a scenic harbor rife with tugboats and hardworking mariners.
Take a virtual walk down Halifax's waterfront with Jeff Pinney (and hear about a very good Nova Scotian wine as well as an explanation of The Nature of Reality) via this podcast: MP3.
This shot of shimmery tugboats is the sole example of a failed attempt at impressionistic photography:
My favorite waterfront food shop is Botticelli Mercato Italiano (1477 Lower Water Street, Halifax, Nova Scotia; 902-425-7466), which makes excellent gelato. Pear tastes like you're eating a cold, creamy pear, and pistachio is the essence of toasty pistachio. Both a bit too sweet, but I quibble: Experience GelatoCam: Movie.
You'll notice that as I shot the video, I was struck dumb by the sight of brownies. Sure enough, they were amazing, with as long a flavor fade as anything I've ever eaten: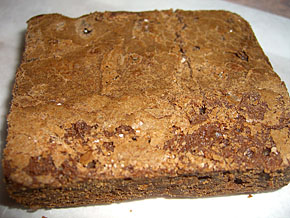 The big don't-miss weekly waterfront event is the Saturday morning farmer's market. I somehow managed to miss it (hotel bed too comfy).
+ + +
I've never seen a city with such an intensely focused french fry culture. The scene hinges on big tater-spewing fry trucks parked in front of a statue of Winston Churchill.
Bud the Spud pretty much owns fried potatoes in this town. Bud, an artiste held in much awed esteem by the populace (slightly less so his brother, Bill the Spud), only deigns to fry in optimal weather. It was a bit drizzly during my stay, so Monster Fries, a lesser truck that pops in strictly at the whim of the almighty Bud, was my sole choice.
Monster Fries' product was damned good, making me dreamily wonder what tuberous majesty Bud's blessed pommes frites might have offered.
Halifax french fry trucks are actually big business: Truck, permit, equipment, and parking space cost umpteen thousand dollars, I'm told.
+ + +
In my last report I described the no-frills Ardmore Tea Room as "no-nonsense." But that place was downright jolly compared with the Midtown Tavern and Grill (1684 Grafton Street, Halifax, Nova Scotia; 902-422-5213), a time capsule where giant waiters with forearms like fireplugs stalk the floor, slamming down tankards of beer and growling hardily at their fellow roughneck customers. I felt like a little girl suddenly beamed from some Hello Kitty boutique to the movie set for The Gangs of Nova Scotia.

Behold, the Nova Scotian boiled dinner.
Was the food good? That's totally beside the point. Any landmark this characterful, evocative, and steeped in long tradition is inherently perfect. One must calibrate to such places.
+ + +
One of the callers in to yesterday's radio show tipped me to great home fries. South End Diner (1128 Barrington Street, Halifax: 902-429-6439), a sweet, calm white-tiled mom-and-pop parlor from another era, is a bastion of care. The from-scratch cooking is glacially painstaking; it took forever for our puny order to arrive, and we were the only customers. The methodical, stoic chef simply doesn't do shortcuts. Similar care seems to have gone into the amazing collection of decorative plates, which occupy virtually every inch of wall space.
South End keeps their home fries close to the vest—you can't simply ask for them. They must be requested with earnestness; the request will be mulled over and, if you're lucky, approved.
I was moved by these little stones of staunchly unseasoned hand-cut potato, diligently parboiled and then fried in fresh oil. The opportunity to eat things like this, impossible to find at home, is the very reason for traveling. All photos in these reports enlarge when clicked, but we'll blow this one way up so that you can ponder the subtle depths of these spuds:
+ + +
Sweet Jane's (5431 Doyle Street, Halifax, Nova Scotia; 902-425-0168) is famous for New York–style cupcakes. Did you know there even were New York–style cupcakes? I sure didn't—though, come to think of it, growing up on Long Island I was never aware of a duck connection. Anyway, New York cupcakes seem to be a standard item up here.

Regionality aside, they were fine cupcakes, with tangy frosting.
+ + +
The appeal of Darrell's peanut butter burger, one of the city's most titillating culinary oddities, can be explained via one word: satay. As Southeast Asians long ago discovered, peanut sauce and meat work together beautifully. I doubt that Darrell and company were aiming for satay, however. This is what cultural anthropologists might call "parallel innovation."
The restaurant's full name is My Other Brother Darrell's (5576 Fenwick Street, Halifax, Nova Scotia; 902-492-2344), and they've won all sorts of local awards for this culinary achievement.
Just down the block, Tarboosh (5566 Fenwick Street, Halifax, Nova Scotia; 902-405-4000), a new Lebanese place, looked good, and a few quick bites confirmed quality. These guys actually make foul madamas from scratch (rather than with canned favas), which is way beyond the call of duty.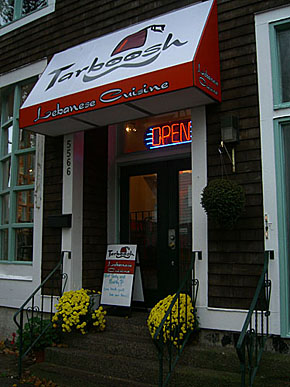 And around the corner, Gingerbread Haus Bakery (1138 Queen Street, Halifax, Nova Scotia; 902-425-4333) broke my streak. I thought it looked great from outside, I thought it looked great from inside, and, infinitely confident about its grandeur, I ordered box after box of cookies, pastries, breads, and treats … none of which was the slightest bit remarkable.
Would you have been fooled, too? Have a look: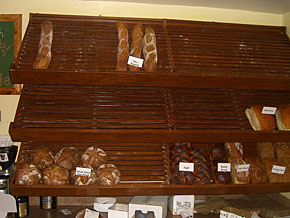 I wasn't so upset about my streak, seized as I was by crashing disappointment over those luscious-looking chocolate elephant ears, adorable gingerbread men, lovely cakes, crusty loaves, and hand-dipped spritz cookies. Streak, shmeak; after being spoiled by all the great strawberry shortcake and pie in Maine, I need some decent baked goods, dammit!
+ + +
The Wooden Monkey is a sort of vegetarian place (serving lots of meat), offering nominally healthy fare (made with tons of oil). I stopped by on a tip to try their seitan sandwich, which was way more satisfying than its name would indicate.
This spicy sandwich went well with good, strong ginger beer made by Propeller, a local microbrewery.
I don't know about those "baked" french fries (greasier than fried), though:
... and the blueberry pie was downright disturbing: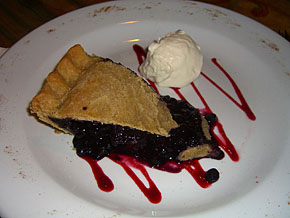 Its crust seemed to contain some health food oil (and no salt at all). More trans fats, please!
+ + +
The Chow Not Eaten: Halifax Leftovers
A grab bag of tips, spottings, and other leftovers … caveat eater!
Certainly Cinnamon
Smith's Bakery
Nameless bakery in Dartmouth Ferry 2 mins. from the King of Donair branch near the ferry terminal.
Lamb sandwich in front of Pete's Frootique.
Jamieson's in Cole Harbour for really good food in the sprawl.
Chickenburger ("unique and trashily addictive").
John's Lunch ("you will not believe the pile of clams").
Habbibi's (Jeff's find for great Lebanese in the middle of an industrial park).
Alexander's Pizza.
Bitar's Pizza & Grill in Elmsdale (just outside Halifax), for great pizza.
O'Carroll's ("great bar").
Sushi Bang.
« Previous Post: Halifax: Faux Turks and Primordial Corned Beef Hash«
»Next Post: 36 Sublime Hours in Newfoundland »