North America Dispatch #35: Fun in Bethel, Serious Scores in New Haven
Bethel, Connecticut
Kristie and April, troublemakers in the idyllic (and oh-so-chowy) little town of Bethel, Connecticut, wanted to take me for my first clam chowder as I headed north.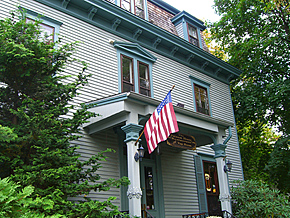 The Putnam House Restaurant (12 Depot Place, Bethel, Connecticut; 203-791-1852) has tons of antique charm and extremely well-poured tap beer. The chowder was fine, but other stuff was just OK—a bit disappointing for a town with such high food standards.
My Casio Exilim camera is out of control—it made those calamari look great. I fret that it may no longer be my trusted agent of truth.
April was all atwitter about the new fried-in-house potato chips at Stew Leonard's (99 Federal Road, Danbury, Connecticut; 203-790-8030), the world's largest dairy store, so we rode over to investigate.
They're certainly pushing those chips.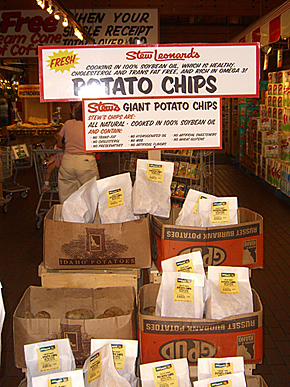 They're even offering free samples.
This is Pablo. His full-time job is to fry the chips. And he is so totally into it:
Hear April and me making our way—against the traffic flow—through this enormous shticky store, filled with animatronic mooing cows and such (and also meet Pedro) in this podcast of rambunctious shopping fun: MP3.
The potato chips were delicious and, of course, extraordinarily fresh. But the kettle corn was killer. We ravaged it in the parking lot. Hear our ebullient crunching and giddy exegesis in this podcast: MP3.
+ + +
Then it was on to New Haven, where I was to meet my buddy Jim for a bite. On my way into town, I passed a sensational-looking sidewalk smoker, spewing lovely aromas of Jamaican jerk.
I braked hard and screamed into my cellphone for Jim to come meet me immediately, as I suspected the chicken was about to emerge from the smoker.
Caribbean Connection (370 Whalley Avenue, New Haven, Connecticut; 203-777-9080) makes very serious old-fashioned jerk chicken, and, unlike many Jamaican jerk places, they also serve terrific sides (I really liked my plantains, collard greens, and even the rice and peas). Really nice folks, too. And though I'm restraining my praise because I know a couple of slightly better places in the outskirts of New York City, this jerk chicken is grand-slam great for New Haven, and worth a trip for anyone driving through (as many do on their way to or from Boston).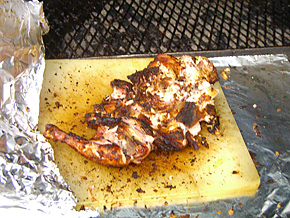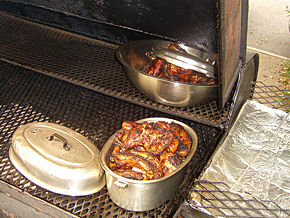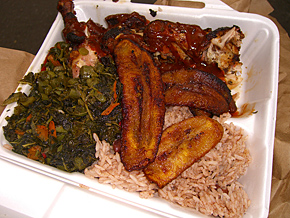 Jim dutifully joined in for some takeout Jamaican (it passed the drizzle test, by the way—we ate sitting on a bench, it drizzled, and we kept eating), but we were both saving room for the meal we'd planned on, at L'Orcio (806 State Street, New Haven, Connecticut; 203-777-6670), a newish Italian place that Jim wanted me to try.
What a gem. It's intimate but with a non-smarmy atmosphere, personal service, and a terrific, well-priced wine list; and the food—at least the two things we tried—is killer, and as authentically Italian as one could ask for (chef-owner Francesco d'Amuri is from right off the boat).
Gnocchi al Gorgonzola are astounding. The gnocchi are as refined—subtle, light—as one could imagine, yet they also have full-fledged soulful/satisfying peasant-fare credentials: by far the best gnocchi I've ever had. I was particularly impressed by the bleachy white Gorgonzola sauce—not just for its lush deliciousness, but for the chef's assurance in declining to gussy it up.
Farfalle strascicate is wailingly delicious homemade bow-tie pasta tossed in a creamy meat sauce with peas. Once again, the chef accomplished a whore/madonna integration—a precise equilibrium between subtle refinedness and unaffectedly lusty good eating. I've seldom found cooking so evenly bridging the two extremes with such confidence.
Even in an era when high-end restaurants take particular pride in their cellars and compete to hire the most informed sommeliers, it can still be a strain to get the house to take back a corked bottle, even if your party's established its wine-geek credentials. We dined at the bar, served by a smashingly beautiful and preternaturally composed young woman whom I'd figured was simply part of the handsome décor. She opened our bottle, took a careful whiff, pronounced it corked, and invited us to reorder.
The problem was fairly mild and by no means easily detected. This server is smart as a whip. For the umpteenth time on this trip, I was reminded that appearances can deceive.
Addendum: Central Connecticut Barbecue Cluster
En route to New Haven, rushing to meet Jim, I asked Eartha (my GPS navigator) to show me names of all nearby restaurants. The result was a stunning barbecue conjunction, god-knows-where in rural Connecticut, that I, alas, had no time to check out. Hear a podcast where I note this remarkable node and read off the names of the barbecue joints: MP3.
« Previous Post: Seafood Shacks: A Plan of Attack«
»Next Post: Body by Jim, Plus Astounding Ecuadorian Railroad Pizza »