North America Dispatch #62: Magical Lebanese Time Portal Bakery
Montreal, St-Hubert, and St-Lambert, Quebec
Boulangerie Zaatar (151 rue de Castelnau Est, Montreal; 514-274-4775) may be the find of the week. To all appearances, it's a generic little Middle Eastern bakery. The owner, a sad-eyed older Lebanese gentleman, keeps an extremely low profile. There's nothing about the shop's exterior or interior, in the speech or manner of the proprietor, or in the display or range of his wares to indicate that anything special is going on here.
Even the baked goods themselves taste so artless at first bite that their grandeur is easy to miss. They're neither fancy nor painstaking; this is a commercial bakery. But those weary of syrupy, vulgar Middle Eastern pastries ought to thrill to the quiet subtlety and soulfulness of Boulangerie Zaatar. You can taste the lineage—this is how Middle Eastern baking tasted a very long time ago. When this wizard—long may he live—is gone, a rare tunnel to Pastries Past will close. You can see him in the window in this photo (though unfortunately not his kind, intelligent, sad eyes):
Baklava is stupendously light. I wish I could adequately recount the profound experience of teeth penetrating the pastry's inner reaches.
One trick is the use of slightly "ripe" ghee. Middle Eastern pastries lack the requisite nutty complexity if fresh butter's used; tradition is to let the butter turn a bit … but not too much. You won't find this mentioned in cookbooks (which is one of the reasons not to take cookbooks too seriously!).


These sesame cookies are masterpieces.


... as are these butter cookies.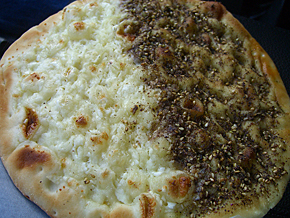 Half zaatar/half cheese bread is the epitome of class.


He makes a few savory items, which show a deft touch even though they're not his forte. Crispy sambusas are oily as all get-out, yet don't at all taste it. I admire the bracing hit of vinegar in the grape leaves. Here's the last one … clearly not long for this world:
Kibbe, perfectly fried, with lots more flavor layering than usual.


The remnants of some spinachy item that I, for some forgotten reason, felt obliged to show you before its final decimation.
The wizard watched me out of the corner of his eye while I munched, thinking I'd not notice. He's used to people not noticing. I get the feeling nobody's paid any attention to him in a long, long time. And I hope that changes.
+ + +
Montreal is such a wonderland of worldwide dining that it's easy to forget that the city has its own culinary traditions. The acknowledged mecca of French Canadian soul food in Montreal is La Binerie Mont-Royal (367 Mont-Royal just west of St-Denis, Montreal; 514-285-9078). I love their breakfasts and their lunches, so we got both.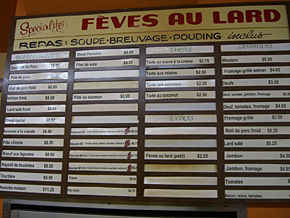 The innocent-looking sausage below is actually stellar—plenty of snap plus an erotically creamy interior. And the toast (what Anglo Canadians call "campfire toast") is great, and definitely not the sort of thing you'd ever expect to find in a restaurant. This is the place to hit for the sort of stuff you'd never expect to find in a restaurant.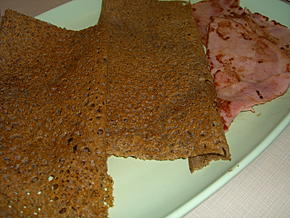 That's "toupie ham," and those crepes are ever so buckwheaty.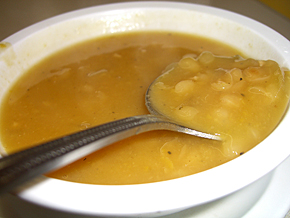 No sugar in these beans at all; just tons of fat.


Nonalcoholic "spruce beer" offers all the pleasure of sucking on patio furniture, but Montrealers are very proud of it, so I pretend to like it:
The affable waiter demonstrates the ritualized pouring routine, inverting the bottle to be sure all the resinous sediment (mmm … resinous sediment!) makes it into the fragrant pour:

I don't recall which dessert this is, but it was charming simple goodness.
+ + +
After many weeks of ceaseless rambling, I was feeling pent-up in the city, so we crossed some bridges and drove around the 'burbs, letting serendipity do its thing. I lightly freaked out upon spotting Bistro des Bières Belges (2088 Montcalm, St-Hubert, Quebec; 450-465-0669)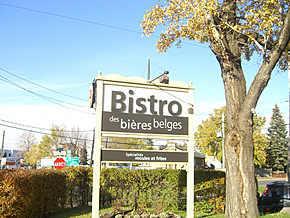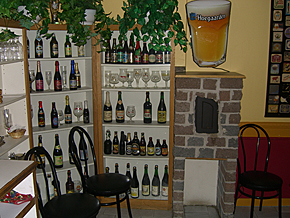 We ordered a number of esoteric Flemish and Walloon ales from the meticulously handpicked beer list: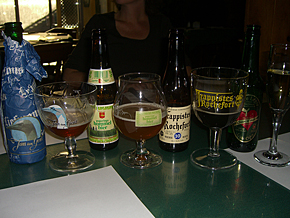 And we asked for an order of carbonnade, the hearty Belgian stew dosed with strong, fruity beer:
Though these guys are Canadian, their carbonnade precisely evoked versions I've had in Belgium. The beef was properly tender and pot-roasty, and spicing was right on (lacking salt, though). Frites were crisp on the outside but luxuriously soft and potatoey inside. They came with homemade mayonnaise for dipping, and it was tangy, creamy perfection—even better than the mayo at Frite Aloors.
The owner's a true believer, and it saddens me that suburban locals may fail to flock to his tidy place, quaff his weirdo beers, and acclimate themselves to Belgian home cooking. We were discussing food, and he recommended a charcuterie near the border called Charcuterie Stefan Frick (69 rue de l'Église Nord, Lacolle, Quebec). He also raved about duck from Knowlton, which by the time you read this he'll likely be serving at the bistro. I subsequently found an interesting article on Knowlton duck.
+ + +
I found this awesome little cheese shop: L'Échoppe des Fromages (12 rue Aberdeen, St-Lambert, Quebec; 450-672-9701).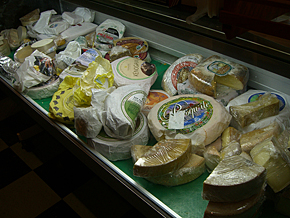 The store was crowded, so I didn't make much headway into the cheese offerings, but I did pick up a brownie and a pastel de nata from their small but intense selection of baked goods. The former was exceptionally fluffy, with a brittle parchment-like top, and the latter was brilliant, though quite sweet. It's impressive that Portuguese culture penetrates even out here in the boonies!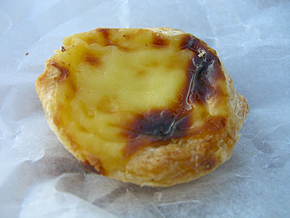 + + +
I'd always wanted to try Restaurant Daou (519 Faillon Est, Montreal; 514 276-8310), especially because there's such a dearth of good Lebanese in New York City these days. My friends Yuri and Stella have made a religion out of the place, which specializes in grilled meats of unusually high quality. Service is awful and ambiance feels like 1958 suburban bourgeois, but it's all about the food.
I'd never had kibbe made with raw meat (kibbe nayyeh) and figured a restaurant known for quality meats would be the perfect venue. But they were out of kibbe nayyeh and served us, instead, kofta nayyeh—a.k.a. steak tartare. It wasn't terribly interesting, but was nicely moist and unctuous, and a terrific combination with the mint and onion, eaten with bits of pita bread.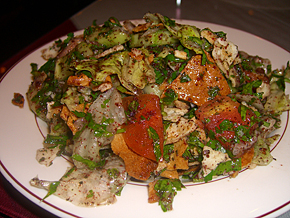 Excellent fattoush (salad with pita croutons and a dusting of sumac).


Daou's mezzes (appetizers) are just OK.
Again, it's about the meat, and I thrilled to a platter of shish-kebab and grilled chicken. The latter was highly marinated and impossibly moist. The shish-kebab was made from filet mignon, which was pure luxury—not just because of the unusually high-class meat, but because of the kitchen's careful timing in broiling this finicky cut. Meats come with good saltless french fries and good-not-great toom (homemade fluffy garlic mayonnaise).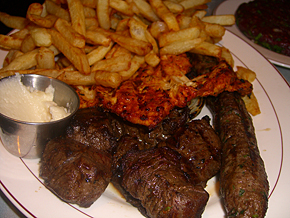 Desserts are as exemplary as the meats. In the photo below, the red cruet contains rosewater syrup for pouring on the pudding in the foreground.
The pudding's real good, but the tayef is astounding: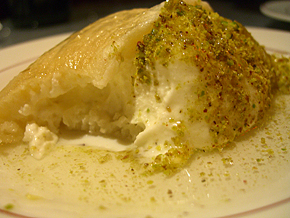 + + +
The next day, I find myself ensconced in the bar at the Montreal airport, where there's been a major flight delay, and I have no idea when I'll get home. The very cultured bartender just told me the chicken quesadillas were the most survivable option, and I snickered as I realized I was about to ingest my first meal-as-sustenance in over two months. My camera's stowed away, and it's time to mindlessly just eat.
But no. The quesadillas here at Le Bar Sportif inside Trudeau airport are surprisingly good. Authentically Mexican? Of course not. But I gobbled them happily. Plus, the bar pours Trevini Primo, a delightful merlot from Mondo del Vino MGM.
An airport score is the sweetest score of all.
I'm typing away at the bar, unsure which city I'll be sleeping in tonight. But I'm unconcerned. Between the fajitas, the wine, and my uprootedness—and, above all, my conviction, much reinforced over the past nine weeks, that greatness is everywhere—I just don't see why it matters all that much where I wind up. Even the airport's pretty good!
+ + +
EPILOGUE: Montreal Leftovers
A few places I tried but couldn't fit into my reports:
Patisserie Chow's Pastry Shop (16 de La Gauchetière Est, Montreal; 514-904-0650) Good pork buns and coconut buns at a little bakery that's somewhat hidden in Chinatown.
Restaurant Uyghur (1017 Boulevard Saint-Laurent, Montreal; 514-393-8808) was disappointing, but it's a rare and interesting cuisine (that can be better sampled in Toronto and in Queens), which falls squarely at the intersection of Central Asian and Chinese.
La Casa del Habano (1434 Sherbrooke West, Montreal; 514 849-0037) is a cool cigar lounge that's part of a Havana-based chain! Cool, elegant décor—you feel like you're in an upscale cigar box. There's a full bar, but they maintain the atmosphere of a relaxed living room. And the cigar selection's great, including the luxest of lux, the holiest of holies: Trinidad Robustos (which we puffed expansively).
And I failed to follow up on a tip from my redoubtable chowhound friend Yuri:
"I encourage you to try my Chinese place … Bon Ble Riz on St-Lawrence between De Maisonneuve and Ste-Catherine … on weekend evenings the chef does a demo of noodle-making … the Bon Bon chicken and Orange Beef are world-class, as are the peanut-flavored dumplings …
As I surfed the Web to grab address/phone info for these reports, I found some impressive Web pages:
Good article on Montreal bagels.
Jeremy & Vinita's Montreal Restaurant Guide.
Mallory's Vegetarian/Vegan Guide to Montreal.
« Previous Post: Astounding Macrobiotic (Not a Typo!)«
»Next Post: Chowus Interruptus En Route to L.A. »