North America Dispatch #33: Bourbon Redux
Bardstown, Kentucky
Bourbon fans may have been disappointed by the lack of serious bourbon talk in these last few reports. The following podcast—long but informative—is for them. JB and I ramble on and on, running down what we've drunk and what we've learned, while puffing on icky Maker's Mark cigars (which, apparently, have bourbon in them).
If you're not a bourbon geek, don't even think of clicking on podcast #1: MP3
Quick advice on how to drink bourbon … in podcast #2: MP3
Tips for those considering attending next year's Bourbon Festival, plus a final appreciation of Officer Bill, in podcast #3: MP3
+ + +
I ought to be banned from renting cars. I'm not referring to the vehicle I smashed up back in Mt. Vernon—I mean my complete inability to remember to fill the tank before returning. Driving into Louisville Airport, I grimaced, made a hasty U-turn, and went off searching for gas.
And thank goodness for this, because in my meanderings I found exceptional Vietnamese pho at Pho Binh Minh (6709 Strawberry Lane, Louisville, Kentucky; 502-375-9249).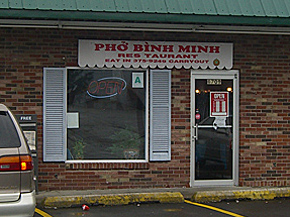 I only had time to gulp down half a bowl of meaty broth—I was in and out of there like a meteor—but this is the sort of serious homey grandma Vietnamese place I'd been looking for for years, and I'm sorry I didn't have time to really check it out.
I also regret lacking time to plunge into the issue of hot-water cornbread, which confused me greatly. I ate so many startlingly different renditions of cornbread (in general) and hot-water cornbread (specifically) that I feel like I need to sit down somewhere and get seriously calibrated on this food. Little greasy fried corn pancakes are cornbread? Huh?
Here's a recipe JB found.
+ + +
Some bourbon links:
The message boards at BourbonEnthusiast.com are a good place to discuss bourbon with serious enthusiasts. That said, don't forget that Chowhound, too, has a spirits discussion board!
I haven't had time to actually read through an issue, but I love just the idea of The Bourbon Country Reader!
The Bourbon Companion: A Connoisseur's Guide, by Gary Regan and Mardee Haidin Regan, is highly regarded. It's out of print, but used copies are easily found.
Malt Advocate sometimes covers bourbon.
Bourbon aficionados will want to bookmark the price lists I linked to in report #29 (I keep them all on my PDA so that I have a handy price reference).
+ + +
And now, a message from our CEO (who doesn't know I'm printing this, so I may well be fired) ...
CNET's CEO has fine taste in obscure bourbon. He hipped me (not that we're constantly hobnobbing … it's just that what else am I going to talk to the guy about when I pass him in the hall? Physical-plant depreciation?) to Vintage Wine & Spirits, a great store for bourbon in Mill Valley, California. His recomendations are: A.J. Hirsch 19-year-old (extremely rare, no longer produced) and George T. Stagg unfiltered. I've had the Stagg, and it's great—though, as with any barrel-strength, high-proof spirit, you need to really water that sucker down. I've never tried Hirsh, which JB has been stalking for years. Does anyone know where to find a bottle? If so, please leave a comment beneath this article!
+ + +
To close the chapter on Kentucky, JB sent me the following email after returning home:
It took a few days, but I am really appreciating the mashed potatoes at Stephen Foster Restaurant. I'm getting your whole 'this is where they got the idea for 1000's of pounds of soulless mashed potatoes' jive. It's something I'll tuck away as part of my chowhound education.


Speaking of soulless, I have to admit that I went to Talbott's Tavern for lunch Sunday. Dagwood's sandwich place and the lunch counter place were closed, and I didn't think my nieces could make it to the taco guy. I could not get served a bourbon with lunch because it was before 2p on Sunday! Had the pot roast—awful potatoes, nice vegetables, soulless pot roast. I ordered corn fritters and pecan/chocolate pie for desert. You would have warned me off the pie, with good reason. It wasn't awful, after all it's pecans, sugar & chocolate, but that's about it. The corn fritters were like corn malasadas (which, I assume you know, is a Hawaiian donut). They were well fried, warm on the inside, not too crispy on the outside, better corn flavor than Berea's sad little tin of spoonbread. They would have been a lot better without an inch of powdered sugar. Definitely the best thing on the menu, which isn't saying much. My sister-in-law had the fried catfish, which was a sad cornmeal crusted affair that looked and tasted baked and not fried. My nieces enjoyed the grilled cheese and green beans, and of course the powdered sugar! It was strange sitting down to a meal in a restaurant without a camera and microphone in my face. I may never sit down at a restaurant again without hearing your voice.
I'm drinking Blanton's because I want to finish the bottle to make room for Elmer T. Lee and the Van Winkle rye. Also, I was wrong, you can get Wathen's in CA.
Thanks for a great trip!
—JB
PS—I just listened to your podcast about The Streak. You're right, I wouldn't believe it if we hadn't found Derby City Truck Stop. I have gazed at the picture of the fried fish three times, couldn't help myself.


« Previous Post: Madly in Love with Maxine's«
»Next Post: Seafood Shacks: A Plan of Attack »