North America Dispatch #22: Back-to-Back Scores in the Middle of Nowhere
Asheville, North Carolina
Ravenous from skipping supper last night, I did a double breakfast in Asheville, trying two places touted on Chowhound.com. First I hit the hippy-dippy Sunny Point Cafe (625 Haywood Road, Asheville, North Carolina; 828-252-0055).
The food was very good and hit all the right notes, though nothing was really sensational. The intensely spiced organic sausage patties you can see in the photo at 3 o'clock were the best part:
Podcast #1: Listen to a Podcastus Interruptus. MP3 file
Then on to West End Bakery (757 Haywood Road, Asheville, North Carolina; 828-252-9378), whose strawberry crumb coffeecake is absolutely killer. So light and subtle, super-moist and tender.
Podcast #2: I'm ashamed to admit I don't remember whose muffin I'm blathering on about in this podcast (perhaps West End Bakery's, but I tried a couple of lesser bakeries after that). I'm including it nonetheless because it documents a watershed cultural moment. MP3 file
Podcast #3: I hit an AAA office to chart a course into Tennessee. Tune in on the deliberations as I wildly unfurl maps. MP3 file
Travel tip for Auto Club members: Get local maps and info from local clubs after you arrive. They always have a selection that's unavailable in distant offices.
Sylva, North Carolina
The Anatomy of a Find
Podcast #4: Hear the precise moment of the olfactory discovery of magnificent Robbie's Char-Burger (1461 East Main Street, Sylva, North Carolina; 828-586-3490). MP3 file
Podcast #5: Listen to the postgame report (MP3 file). Sound quality is poor because I was too numb with happiness to work the recorder controls properly. Listening now, a few hours after, I think I failed to convey how great the burgers were. Thank heaven for photographs, which I think you'll find pretty persuasive (Caution: not safe for work!):
As foreshadowed in the preceding podcast, I had no time to digest my blessed charburger before my attention was wrenched by Heinzelmännchen Brewery (545 Mill Street, Sylva, North Carolina; 828-631-4466) as I passed its little storefront in Sylva. Brewmaster Dieter Kuhn, born and raised in Heidelsheim, Germany, makes staunchly personal, defiantly German-style beers—soft, rounded, subtle brews in contrast to the intense bitterness and flashy flavorings of much American craft beer. I've quaffed most of America's best lagers and ales, and Dieter is one of our best undiscovered brewers. What a stroke of luck to find him. He also makes fantastic root beer and birch beer.
Here's a list of venues serving Heinzelmännchen products it's probably most fun to drop into the brewery and have Dieter pour you a growler!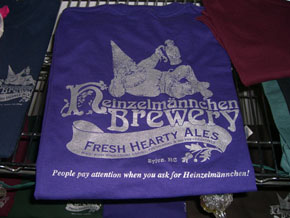 Heinzelmännchen are gnomelike creatures found in the Black Forest of Germany (hence their URL of yourgnometownbrewery.com), so there are gnomes everywhere: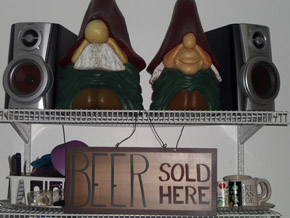 This article tells more about Heinzelmännchen Brewery (as well as Asheville's Highland Brewing Company).
I really dug Sylva. I'm dying to hang out there sometime, drink Dieter's beer, eat Robbie's charburgers, and go kayaking and hiking. Travelers hoping to visit Asheville ought to head here—an hour west but a world away.
Dillsboro, North Carolina
Not far west of Sylva, I gave Dillsboro Smokehouse (403 Haywood Street, Dillsboro, North Carolina; 828-586-9556) a quick try.
Their barbecue is pretty good, though not up to some of the praise in press reviews taped to their front window. Their no-nonsense style is the polar extreme of the postmodern 'cue at 12 Bones (installment #21), so it's good to have both to extrapolate from. Note that this is border 'cue, featuring barbecue baby back ribs and referring to chopped pork (elsewhere in North Carolina called simply "barbecue") as Bar-B-Que Pork.
Nantahala River Gorge, North Carolina
I'm not usually one to prefer ambiance to deliciousness, but I spotted Pizza by the River in the Nantahala River Gorge near the Tennessee border, and stopped to buy a soda (even serendipity couldn't possibly deliver tasty slices in a place like this) and snap a couple of photos of the view from the back ledge. Could this be America's most scenic pizzeria? It was like a dream, and I kick myself for not getting a better exterior shot (I was rushing to get out of the gorge by sundown).
Adjacent is Roper's Real Pit Bar-B-Q, which was, alas, closed. Both are right near Paddle Inn (14611 U.S. 19 West, Bryson City, North Carolina; 800-711-RAFT), one of myriad whitewater-rafting businesses between here and Chattanooga.
Speaking of water sports, Endless River Adventures seems to offer the widest range of kayaking/canoeing/rafting activities in the area, and they say that they "offer one of the longest paddling seasons in the country on a wide variety of spectacular rivers."
Kudzu
This stuff's taking over the South like—well, kudzu. The vine transforms everything in its path (trees, poles, power lines) into topiary. It's shocking to see avalanches of kudzu flowing down a hill, devouring everything—even a couple of vehicles, poised to soon be lost under a sea of green:
Not to end on a terrifying note, here are some happy-looking horses I saw wandering around freely near the road in Great Smoky Mountains National Park:
« Previous Post: Biltmore Blueblood Blues (Plus Barbecue)«
»Next Post: Downtown Chattanooga: Chowhound Hell »