North America Dispatch #63: Chowus Interruptus En Route to L.A.
We're off to California! Swimmin' pools! Movie stars! (cue banjo music).
The goal had been to more or less do the continent in a little over two months, but that proved impossible. I couldn't move faster than I did and still find finds. In fact, I'm surprised that I found as much as I did, given the frenetic pace. But what's needed is some regional balance (and, of course, East L.A. fish tacos), so here I am, winging my way westward.
I had scant time back home to indulge my escalating desire for tofu and oatmeal. It's been particularly difficult to suppress my wild hankering for skim milk—you know, the extra-thin, almost blue-hued sort of skim milk? I can't get it out of my mind. But that must wait. There's reporting to be done.
I'm meeting Angeleno friends for dinner, and am reserved at the swell Hotel Ambrose in Santa Monica tonight (the sole night this week they're not stratospherically priced). I've got my shades and my tanning lotion, and here I am, walking, in a blaze of hunger, around some godforsaken frozen suburb of Chicago at 9:30 p.m.
Why am I here? I missed my connection. Airline has put me up in some glaring fluorescent airport barracks, far from downtown (while I simultaneously pay for the Hotel Ambrose). All around me is nothing but chain food. And I haven't had supper.
I sit in my dank room surfing furiously for local tips, and Chowhound delivers a few. I organize and prioritize, call a cab, and discover that 20 Chicago blocks is nothing like 20 New York City blocks. We drive and drive—about $22 worth—finally arriving at an eatery that's dark as a cave. We try a second option, and it, too, is closed for the night. I concede defeat (the cabbie feels awful for me), and return to my hotel … another 22 bucks. Nearby is a Marriott, and I hit the bar (Dempsey's Irish American Grill) for a sullen bite. Behold, if you dare, my supper—an unthinkably greasy corned beef monstrosity, a misbegotten Irish fusion dish with "Reuben" in the name:
(It's blurry 'cuz you're viewing through layers of bitter disappointment.)


I should have eaten at the airport. Midway's food court, it turns out, is one of the best in the nation. I even spotted Unique pretzels in the gift shop.
+ + + + + +
A new day. Let's start again.
Ah, California! Swimmin' pools! Movie stars! Here I am being driven on the jaunty cart in shimmering sunshine across the massive Hertz parking lot at LAX (that's more like it!):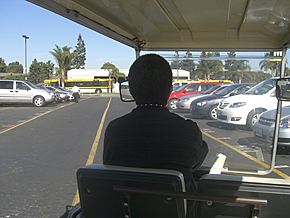 And here I am, ogling French pastries in a bakery whose legacy sign promises strudel (the current regime, which is French, still makes strudel, but it doesn't look very good … though Frenchier things look great):
Here I am peering into the kitchen (that's strudel they're rolling out in the back):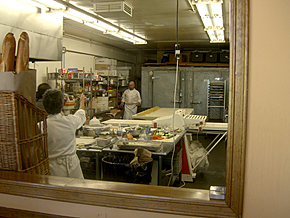 And here are a very nice lemon curd tart (smooth and sharp), an even better peach tart (cookie-like crust dovetailing into moist, almost ricotta-like wetness just beneath the filling). And a vestigial éclair.
A friend and I (with a reporter in tow) had spotted the sign for Old Vienna Strudel Company—now Artisan Tatin (10836 1/2 Washington Boulevard, Culver City, California; 310-280-0282)—while heading down Washington Boulevard, and we continue along this promising corridor.
+ + +
Fiji Market (10305 Washington Boulevard, Culver City, California; 310-559-9218) has an exciting sign, but there's dismayingly no ready-to-eat food in this grocery store.
Desperately disappointed, I turn to the woman behind the counter, and ask if she cooks. Oh, yes, she certainly does! Wonderful; then is there any chance I can commission her to make me some take-out? Well … I'll have to talk to her husband.
She dials her cordless phone and hands me the headset. I'll recount, Bob Newhart-style, only my side of the conversation:
"Uh … hi? I'm at Fiji Market and I'd like, uh, your wife to make me some takeout food, and she said I needed to talk to you….
"Wow, great. Shall I stop by at lunchtime?...
"No, I'll eat anything. I only want really serious Fujian stuff, though. Very very spicy!...
"OK, hold on, here's your wife …"
And thus did the disembodied voice make it so. A rendezvous has been arranged for several days hence.
+ + +
Fassica Ethiopian Restaurant (10401 Washington Boulevard, Culver City, California; 310-815-8463) looks good and is good. It may not be the best Ethiopian I've ever had, but it's in the upper echelon. Very friendly people, and the coffee ceremony is unskimping—lots of metal spoon scraping at the metal pan in which the beans were roasted over fire (music to my ears!), the waitress bringing the beans for not just us but all other tables to sniff at as well, etc., etc. Nice!
This looks and tastes just like corned beef hash.
+ + +
Surfas Restaurant Supply & Gourmet Food (8777 Washington Boulevard, Culver City, California; 310-559-4770) is a cool gourmet and cookware store, and I get a bunch of things next door from Café Surfas (8777 Washington Boulevard, Culver City, California; 310-558-1458), all quite good: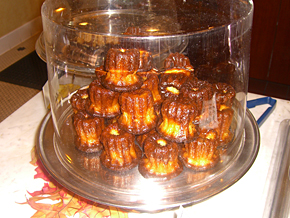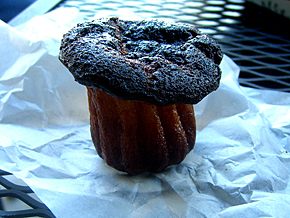 A worthy potato chip brand, previously unknown to me.


As we munch canelés outside, the reporter interviews me about Chowhound. I note that I don't always agree with all food opinions on the site. He interrupts, with a smirk, "Right, and you delete those." Horrified, I point out that I explicitly encourage contrary views on even my favorite places, because the mission is to gather the widest spectrum of diverse opinions. The smirk only widens. Ah, I've been set up. But thankfully my appetite's unaffected. There's lots more to giddily explore on a beautiful sunshiny day!
+ + +
Beverage Warehouse (4935 McConnell Ave, #21, Los Angeles, California; 310-306-2822) is hidden in back of an obscure little wholesale-food park. Great bourbon selection, interesting beers and wines, and low prices.
Nearby in the same eerie cul de sac, 43 Eleven is an Italian-import place with a very modest handpicked selection (including some serious cheeses), but the owner's nice and really into it. I bet there's treasure here for those willing to take the time to ferret it out.
Update: it looks like 43 Eleven just went out of business. Shoot …
+ + +
Father's Office (1018 Montana Avenue, Santa Monica, California; 310-393-2337) looks like a boxy drag on a pricey strip, but good food and drink create their own ambiance. They have a great, carefully selected draft beer list:
... and equal care goes into their wine choices:
(we opt for beer):
... and into their delicious, over-described dishes:
The dregs of an Office burger (with dry-aged beef, carmelized onion, applewood bacon compote, Gruyère, Maytag blue cheese, arugula).


Braised pork bellies with beer and yadda yadda (heavy on the yadda, but delicious).
« Previous Post: Magical Lebanese Time Portal Bakery«
»Next Post: Adopted by Fijians, Moved by Koreans, and a Defense of Apple Pan »