North America Dispatch #53: Dashing Up to New Brunswick
My logistical skills have been falling well short of Prussian military standard. Assigned to, essentially, meander for weeks on end, I've lost my organizational chops.
The drive from Maine to Saint John, New Brunswick—a three-hour yawner—was followed by a dull five-hour slog to Nova Scotia. These eight hours of boredom served as penance for my having missed, by a mere one day, the last ferry of the season from Bar Harbor to Nova Scotia.
It's not that I was aiming to miss New Brunswick. The point of this tour—of life itself—is that great food can be found everywhere if you look for it skillfully and persistently. So I knew there was treasure in New Brunswick, despite its culinary disreputation. But I have a radio date coming up in Halifax, plus I'm eager to check out Nova Scotia, Cape Breton Island, and, especially, the Magdalen Islands, where I hear that people eat seal meat. So I was forced to sprint the 500 miles through New Brunswick.
I made one stop en route today, for a random dish of poutine (french fries in gloppy brown gravy with squeaky cheese curds) from a fast-food outfit called Deluxe French Fries (103 Albion Street South, Amherst, Nova Scotia; 902-660-7000):
Good-quality french fries made this relatively high-class poutine. The brown sauce was, as it must be, straight from a can, and the cheese curds were–as they, too, must be—vulgar and trashy. Such is poutine. If you clean it up too much, it's not really poutine anymore. If I were 20 years younger and four beers drunker, this would have been pure heaven.
Also in Amherst, I tried to track down a tantalizing clue, courtesy of Eartha (my GPS navigation concierge). Suffering a cookie jones, I'd asked her to list nearby bakeries, and she offered "Shirley's Baking and Catering."
Even with Eartha's help, though, I could not find it. Perhaps Shirley works out of her house, but there's no commercial business at 2812 Brownell Ave. Hmmm … as I stare at the photo, I'm wondering whether the address might actually have been 28 1/2 Brownell. Groan.
Other than that, I just blazed through, and only the last hour or two (in the thick of Nova Scotia) was any kind of picturesque. Well, a surfeit of picturesqueness was in store for me in Lunenburg.
I stayed at Greybeard's Bed and Breakfast (201 Pelham Street, Lunenburg, Nova Scotia; 888-532-9696), run by Bob Higgins, an affable gray-bearded fellow, and his good-humored wife, Rosanna. They take particular pride in their breakfasts, and with good reason. It all tasted as good as it looks:

Cantaloupe mousse!

Blueberry banana bread.
The following dish was made with smoked salmon. Very good old-time maritime cooking—with evident design flair:
Bob and Rosanna introduced me to rooibos ("ROY-buss") tea, a noncaffeinated herbal brew made from a South African red bush. Early adopters, Bob and Rosanna used to have seafaring friends bring back rooibos from Africa, but suddenly you can find the stuff across Canada. It left me a little cold—it tasted a bit like weak chamomile—but I'm going to try to acquire a taste for this stuff.
Bob recommended Magnolia's Grill (128 Montague Street, Lunenburg, Nova Scotia; 902-634-3287), a funky little local legend cooking both Nova Scotian and Cajun food (fortunately, they don't attempt to fuse the two). I stuck with the Nova Scotian end of the menu, and was entirely impressed.
This is the annex, next door to the cozy dining room.
Fish cakes, a staple up here, are a delight. They're mostly spuds—think of them as potato cakes "plus."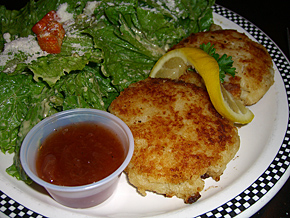 So soft, so carefully fried. Not fishy at all.
Mussels were merely good—a great disappointment given the proximity to Prince Edward Island.
Magnolia's crunchy, perfectly balanced Caesar salad was nearly as good as George Sape's (see report #39), and the key lime pie was stupendous. Its crust (Deep South style, per the chef's Cajun/Creole association) was crumbly and melting—exactly what you dream of when you dream of key lime pie crust. As you can see, the filling's a bit runny, but that's OK:
I love places like this, run by strong-willed mavericks. Magnolia isn't a member of the chamber of commerce, and you won't find it listed in any of the town materials. The chef/owner is known to be cranky and difficult. But she respects the local cuisine, opting not to ostentatiously update it, but instead to prepare it with an uncommonly deft and caring touch.
+ + +
Knot Pub (4 Dufferin, Lunenburg, Nova Scotia; 902-634-3334) is an old fishermen's pub straight out of The Hobbit, an insider's place where the insider order is superb peanut butter pie: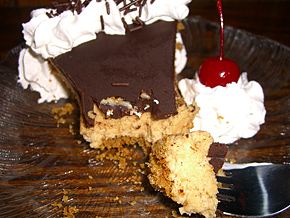 It's all about that dense, hard layer of chocolate and the crumbly graham cracker crust. This pie is thoroughly unrefined, in stark contrast to the dessert meticulousness of Magnolia's Grill. But it's primo for its type.
Lunenburg, a UNESCO World Heritage Centre, is picture perfect ... but self-consciously so. I like the food, and the Greybeard Inn, too, but I prefer locales less self-aware of their own charm. Tomorrow I'll hit the road again.
« Previous Post: What Is Real and What Is Shtick?«
»Next Post: A Tale of Two Restaurants (or, Yin 'n' Yang in Nova Scotia) »