North America Dispatch #60: Refreshed Troops Wallow in French Fries
Outremont, L'Île-Perrot, and Montreal
This was a day of transition, as one group of overfed, exhausted, cranky chowhound friends headed home and was replaced by fresh, zippy, happy eaters.
The final nail was driven into Barry and Joel's dietary coffin, I think, when we grabbed deli sandwiches for breakfast. I'll recount that (and the rest of the day's chowconnaissance) via photos. Everything's as good as it looks, unless otherwise stated.
+ + +
Lester's Deli (1057 Bernard Avenue West, Outremont, Quebec; 514-213-1313) is slightly out of town, in Outremont.
Montreal "smoked meat" is often described as somewhere between corned beef and pastrami, and the landmark venues stake out their position at one or the other end of that spectrum. Lester's is more pickly corned beefy, less peppery/spicy pastramiesque.

The smoked-meat sandwich illuminated by God.



A "smokeburger" of grilled smoked meat.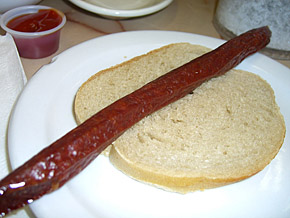 Some insane sausage thing Joel ordered.


Barry (about the savviest chowhound I know) displays his winning form: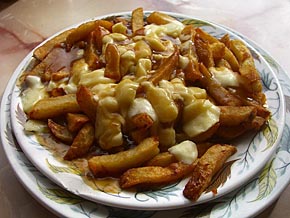 Fantastic poutine, steeped in tradition and gravy.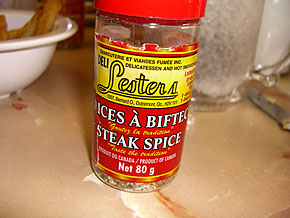 Spice along at home!
+ + +
I welcomed Jennifer, Jacquilynne, and Lucy in my customary manner—with horse-fat-fried french fries at Frite Alors (3497 Boulevard St. Laurent, Montreal; 514-840-9000), previously described in report 58. There were some items I still needed to try on their menu …

... like, for instance, lots more pommes frites.



Again, this place is all about the sauces.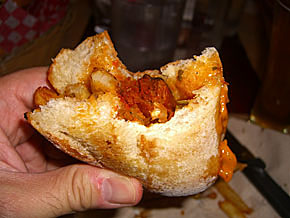 Merguez sandwich (with fries!) on startlingly good bread.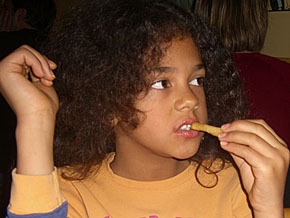 Lucy makes fry scarfing look stylish …



... but attention rivets after her impressive first bite.



Only in Montreal could cheesecake in a french fry chain be delicious.


I love Frite Alors. Charming ambiance … kind service … great food … stylish everything. I keep describing just about every Montreal place in those terms, but that's the beauty of Montreal!
Oh, one thing. The "Aie! Aie! Aie! Burger Piquant" would seem to yelp spiciness and verve, but it was a strangely compacted and funky-tasting affair. I later found out these guys are famous for their disturbingly weak hamburgers. Insiders know not to order them.
+ + +
Rotisserie Serrano (161 St-Viateur West, Montreal; 514-271-3728) is Peruvian, but the chicken has more of a Jewish aesthetic (indeed, it's a Jewish nabe), which even comes through in the photo. Good potatoes, not too greasy.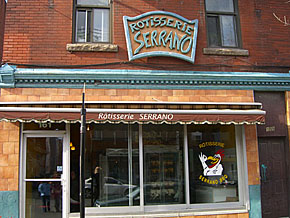 + + +
Across street from Serrano is Chocolats Geneviève Grandbois (162 St-Viateur West, Montreal; 514-394-1000), which sells fancy chocolates in flavors like balsamic and fleur de sel. Good if you like that sort of thing. Me? For some reason, I'm left cold by the fanciest high-end coffee and chocolate.
+ + +
Bilboquet (1311 Bernard Avenue West, Outremont; 514-276-0414) is a world-class landmark for one particular thing: their grotesque, preposterous, irresistible "coupe à la tire dérable," an enormous, sprawling maple concoction that's a dessert buffet unto itself, with maple ice cream, maple-y cotton candy, a delicate crisp buttery cookie, and maple "snow."
It amounts to no less than the Ultraman Triathlon of sugar, and I was somewhat relieved to learn it's not offered til springtime. Fortunately, everything else is terrific, from ice cream to baked goods. Fun place, great for kids. Have a look:
+ + +
Another branch of Première Moisson (1271 Bernard Avenue West, Outremont; 514-270-2559), down the block from Bilboquet, gave me an opportunity to sample the few items I didn't try yesterday.

You've got to love the Halloween hobgoblins!

At center are the exquisite napoleons you'll be hearing more about below.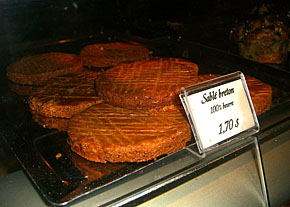 These Sablé Breton butter cookies were incredible.



I'm a sucker for any crunchy cheesy products.



The napoleon in broad daylight.


That napoleon was surprisingly unsweet except for the slight sugary topping, which releases its flavor, with Grucci fireworks precision, at exactly the right stage. This pastry was devastatingly great. In fact, a single bite took out one of our group. Check out this short but quintessential movie: Movie file.
+ + +
Whereas most delis are super-ethnic affairs (see Lester's, at the top of this report), Pete's Meats (283 First Avenue, L'Île-Perrot, Quebec; 514-425-6068) goes the opposite extreme. It's a rollicking suburban roadhouse with live blues bands.

Good, soulful smoked meat, albeit oddly cut. Potato pancakes were a mistake on my part.



This is not your father's deli crowd …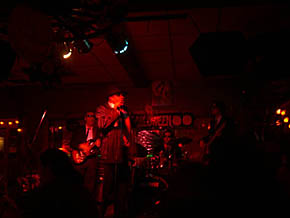 The band.
« Previous Post: A Meal in Pitch Blackness«
»Next Post: Astounding Macrobiotic (Not a Typo!) »