North America Dispatch #47: One of America's Most Fascinating Undiscovered Restaurants
Lowell, Massachusetts
I first visited Lowell years ago, hunting for Cambodian and Laotian food. I'd heard that many Southeast Asian immigrants lived in the area, but drove for hours without finding a single restaurant. Finally, in desperation, I walked into City Hall and queried the restaurant inspector, who kindly hipped me to Southeast Asian Restaurant (343 Market Street, Lowell, Massachusetts; 978-452-3182).
Despite Lowell's burgeoning Southeast Asian community, this remains one of only a tiny handful of local outposts cooking that food. But it's quite a place … and has one of the most interesting stories of any restaurant I know.
Owner Joe Antonaccio is a Vietnam vet who hung around after the war, married a local woman, learned the language and culture, and deeply immersed himself in the food. He traveled around, learning Burmese, Cambodian, Laotian, Vietnamese, and Thai cuisines. When his family moved back to the States, he and his wife, Chanthip, opened a little restaurant with a great big menu crammed with impossibly obscure dishes described with the depth and precision of a museum program. Antonaccio is such a stickler that he often has to train new kitchen staff—even new immigrants—in their own cuisines because too much Western influence has crept into their cooking!
For a sample of Antonaccio's enthusiasm and commitment (and also to learn a lot), read his notes on Southeast Asian food culture.
My first meals at Southeast Asian Restaurant were revelations. I plunged joyfully into the enormous menu, sampling multiple iterations of larb (one a bit more Thai-style, another a bit more Laotian). Spicy meant spicy. I knew that I'd found one of the most fascinating restaurants in America, but I couldn't persuade any of the food magazines to let me write a profile.
The food press's neglect seemed to be mirrored by foodie neglect. A lunch buffet was added—always a bad sign. In their downtown location, they had to cater to the mainstream lunch crowd to stay afloat. The epic menu gradually shrank, and it became harder and harder to be served genuinely spicy food (the kitchen's assumptions about gringo preferences were likely conditioned by the spice-averse buffet crowd). How sad that such a unique and wonderful operation couldn't pull in a critical mass of hip customers. Blasé reaction to greatness discourages prospective restaurateurs from knocking themselves out. It makes more sense to just open an Olive Garden franchise.
Though diminished, Southeast Asian Restaurant is still an invigoratingly good place to eat. This time I had "Phat Prik Gra Pao—T-3 [the code indicates that the dish is Thai and level 3 spicy]: Chopped chicken breast and thigh meat quick fried with chili pepper, Thai basil, onion, and a special sauce combine to make this dish qualify as a bowl of fire (and brimstone for our religious friends). Served with rice":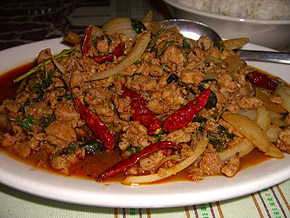 ... and "Nuer Dat Deo/Beef Jerky—L-0 [Laotian and level 0 spicy]: Dried beef, similar to beef jerky. Typically eaten with Lao Dum Som and sticky rice":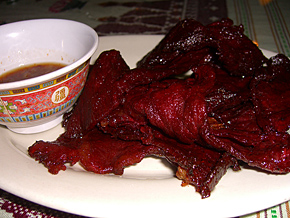 For dessert, charming "Laotian Soy Bean Custard Cake":
The phat prik gra pao was, alas, only medium spicy in spite of my supplications. But it was luscious. And the beef jerky (with intense dipping sauce) may not have matched the textural wonderment of the version at Lotus of Siam in Las Vegas, but it was easily worth a special trip from Boston. Despite the spice decrescendo and shrinking menu, Southeast Asian Restaurant is still great if you catch it on a good night—like tonight. And a great bargain: The total cost of sufficient food for two or three is a mere $20.
Download the current menu in Word format. The restaurant also offers, with 24 hours' notice, meticulously authentic banquets and specialty dinners. This page links to full descriptions, including scholarly explanations of the pertinent traditions.
Here's an interesting Lowell Cambodian Neighborhood Walking Tour.
+ + +
Lowell's got a lot more than Southeast Asian going on. For example, Bany Restaurant (681 Merrimack Street, Lowell, Massachusetts; 978-458-6384), a real bare-bones joint, makes super-delicious, super-authentic Puerto Rican soul food. The roast chicken can only be described as beautiful—in both appearance and flavor. It comes with good moist rice and very nice plantains.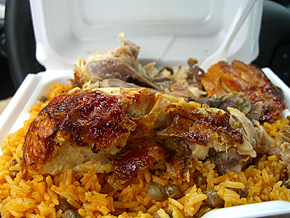 To roughly estimate food quality from my photos, observe how much is eaten. You'll notice that I ravaged almost the entire half-chicken before remembering to whip out my camera. That's a good sign.
They make good cuchifritos, too, like papa rellena (fried potato stuffed with ground meat). The counter guy seems gruff, but he has a heart of gold (he unsmilingly threw an extra papa rellena into my bag; it's that sort of place).
+ + +
There's at least a tinge of Brazilian and Portuguese immigration in most parts of Massachusetts (most recently, the Berkshires). In Lowell, I found a pretty good Portuguese bakery called, logically enough, Lowell Portuguese Bakery (930 Gorham Street, Lowell, Massachusetts; 978-458-3111).
They make swell pasteis de nata (similar to Chinese egg custard pastries—which, actually, were brought to China by Portuguese).
Nearby is a cute little Brazilian place called Oasis Grill (910 Gorham Street, Lowell, Massachusetts; 978-452-0833), which I didn't have a chance to try (they make feijoada, the Brazilian equivalent of cassoulet, on Wednesdays and Saturdays).
The place I'm most sorry I missed is Cavaleiro's Restaurant (573 Lawrence Street, Lowell, Massachusetts; 978-458-2800), an upscale Portuguese place that looked primo to my chow-dar. They keep difficult hours, and I never managed to catch them open.
There's a cool bohemian area right in the middle of downtown. It's all bricky industrial-chic, great to walk through at night with lots of little bars and eateries to stumble across. I'm a fan of the Revolving Museum, which sponsors all sorts of high jinks.
Here are some of the wacky installations currently on display in the Garden of Big Heads and Earthly Delights just outside the museum: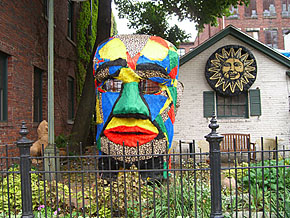 Next to the Garden, extraordinarily nice people serve extraordinarily tasteless vegetarian fare at Life Alive Urban Oasis and Organic Café (194 Middle Street, Lowell, Massachusetts; 978-453-1311). You'd need to be really nice to make me want to return for bad food, but the folks here are actually that nice.
+ + +
Note: I have now worked through one large box of Shout stain-removing wipes.
« Previous Post: Seafood Saturation«
»Next Post: Before and After Portsmouth, New Hampshire »