North America Dispatch #42: What You Call Sprawl, I Call Heaven
Framingham, Massachusetts
I've been infatuated with Framingham, Massachusetts, for years. To Bostonians, this is a boring boonie amid undifferentiated sprawl—an area to drive past quickly on the Massachusetts Turnpike. But I love sprawl in general—the tastiest nuggets can often be found therein—and Framingham in particular, which at some point in the past few years turned shiningly Brazilian. I've spent only a few tantalizing hours in this town, on my way to other destinations, but have long dreamed of settling in for a few days of serious exploration. This CHOW Tour is my big chance!
My first-ever bite here, lo those many years ago, was at the Magic Oven (470 Waverly Street, Framingham, Massachusetts; 508-370-8008). Like a slot-machine player hitting big with his first coin, it's given Framingham an enduring allure for me. As always, I made a beeline to this Brazilian bakery as soon as I got into town, and ordered everything in sight:

Shish kebab.

Shish kebab (spicy, tender, fun).

Biscoito de Polvilho (progenitor of the cheese doodle).

Bolinho de mandioca (one of their best items, a fried yucca ball stuffed with oniony ground meat), quibe (same as Lebanese kibbe), and risole de frango.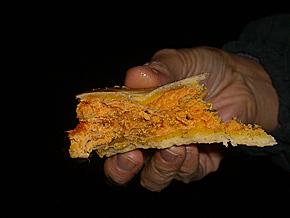 Empadão de bacalau.

Yeasty, irresistible coconut bread.
I also ordered plenty of pao de queijo, the Brazilian cheese rolls made from sweet and sour yucca flour and lots of mild white cheese worked into the dough. I'll get more tomorrow and photograph them in daylight (they're really a breakfast item, anyway).
+ + +
Thus fortified, I revisited Dakshin (672 Waverly Road, Framingham, Massachusetts; 508-424-1030), the only Indian Tamil restaurant I know of in North America. More specifically, it specializes in the cuisine of Chettinad, which is renowned throughout India and extremely hard to find.
We ordered heavy on the Chettinad dishes:

Vetha kuzhambu with gooseberries (made with garam masala and tamarind).

Chicken Chettinad (in spicy garlicky/gingery sauce).

Chili paneer.

Potato varval (very traditional, very oniony Chettinad dish).

Thayir rice (soupy with homemade yogurt).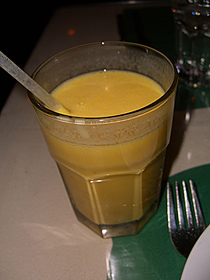 Mango lassi.
Everything, as usual, was wonderful. But this is a high-difficulty-rating restaurant, requiring some palate agility to enjoy. The Chettinad stuff doesn't taste familiarly Indian, and the cooking is unforgivingly authentic, so eating here creates the sensation of having stumbled into the holiday dinner of some family with traditions extraordinarily unlike your own. If that sounds like your sort of thing, Dakshin's for you. Those who require hand-holding and reference points will have their doors blasted off. I'll never forget my first dish here: garlic curry. I expected garlicky curry. What I was served was a plate of sweet, salty, bitter and sour tamarind curry sauce studded with big chunks of garlic. The garlic is the meat! I realized I'd gone far beyond vindaloo.
This place also makes north Indian dishes, a full range of south Indian dosas and such, and Indian-Chinese dishes including burnt chicken garlic fried rice—offered in addition to regular chicken fried rice (what a restaurant!).
I'm not sure I've ever seen as severe a service melt-down as took place at Dakshin tonight. Patrons were walking out after waiting an hour for menus. By the end of the night, our check was given us by some dude who'd never worked in a restaurant before who the panicked staff had apparently deputized. Hey, it's all part of the experience! Dues must be paid for the opportunity to eat anything as rare and prized as Chettinad food!
Note: Nearby Worcester is also full of great stuff (read a Boston Globe article on my last chowconnaissance run there, which also includes some Framingham places). But I've decided to focus on Framingham for now.
« Previous Post: A Memo to My Employer«
»Next Post: Time Machine Steakhouse and Killer Szechuan »